Jan Groth
In Between - liberating the line
March 07 – April 01, 2015, Stockholm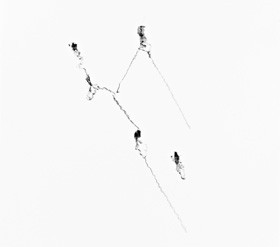 Opening reception Saturday March 7 from 12 to 4pm
"Groth's repeated, mild attacks on the dumb, white surface of the paper partake of the absurd. It is as though he tries to convince himself that a definitive formulation is going to appear in the next drawing, like the contours of a Godot of drawing. He knows of course, just like Beckett, that this is not going to happen. Still, he produces drawing upon drawing, constantly focusing his attention on what is happening on the paper."
Olle Granath's words written in the Moderna Museet catalogue Jan Groth Teckningar 1975-1985 from 1985, about Groth's consistent artistic efforts, are still valid today. The work is never finished.
The exhibition In Between encompass a series of recent small drawings confronting a large bronze sculpture from the early 1990s. The works coexist within the same language and both deal with the actual and the fictive, somewhere in between. The sculpture occupies every inch of the wall on which it leans; it stands alone, yet in constant dialogue with the content in the drawings. Groth creates freestanding elements, signs put into the world without a solid base. There is a strong continual motion at play in the rooms, a subtle, yet very tangible tension in the surrounding space.
Jan Groth (b. 1938 in Stavanger) is one of Scandinavia´s leading artists of his generation, with numerous exhibitions in museums and institutions throughout the world. This is his second exhibition in Galleri Riis Stockholm.