Marijke van Warmerdam
Open
January 10 – February 10, 2013, Stockholm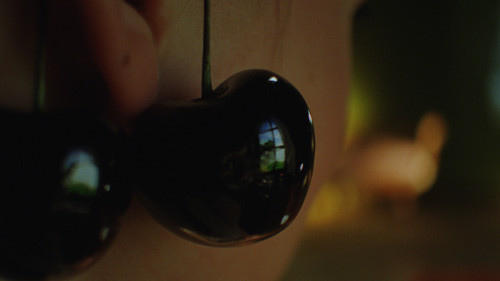 Opening reception Thursday January 10, 5-8 pm
Galleri Riis has the pleasure of presenting our first exhibition in Stockholm with Marijke van Warmerdam (born in Nieuwer Amstel, the Netherlands, 1959). Van Warmerdam is one of her generation's most celebrated artists, renown for her films, photography and objects.
Van Warmerdam is an artist who mirrors the immense in the minute, her work often focusing on simple movements and activities. Everyday acts and situations are presented in a way that exceeds the factual and injects a magical quality. Through artistic methods such as endless loops, dramatic shifts in scale, duplications, reflections, rhythmic repetitions or surprising image-combinations, she creates stories without beginning or end, creating instead distilled moments in time. The unique precision in sense and execution leaves the viewer with a feeling of having experienced something familiar for the very first time.
Central in the exhibition are the film-loops Kersentijd, 2012 and Light, 2010. Kersentijd (Cherry season) features a scene with a young woman playfully placing a cherry-bob on her ear. The room surrounding the woman is reflected in the shiny surface of the berry, and of the intimate intrusiveness a multifaceted situation occurs, creating what can be described as a sensual painterly space. In Light we see someone vigorously let their hand play with a closed window blind. The light sprinkles in through the blind's sporadically separated slats. Suddenly a bright light shines through, the film ends and resumes when the hand starts to explore the surface of the blinds again.
Van Warmerdam has since 1995 shown extensively in international institutions such as the Venice Biennale, Documenta X, Wiener Secession, Migros Museum für Gegenwartskunst, Zürich, Museum Ludwig, Cologne, ICA, Boston and IKON Gallery, Birmingham. In Sweden her work was last presented in the solo exhibition Virvel in Magasin 3, Stockholm in the fall of 2011. Between 2011-2014 her work is presented in a large touring retrospective show, which began in Museum Boijmans Van Beuningen in Rotterdam, toured to Museum Serralves in Porto and will be shown in Kunsthalle Düsseldorf in January 2014. Van Warmerdam lives and works in Amsterdam and holds a professorship in Karlsruhe at the Staatliche Akademie der Bildenden Künste.