Martin Erik Andersen
see you as a hidden fire
February 23 – April 01, 2012, Stockholm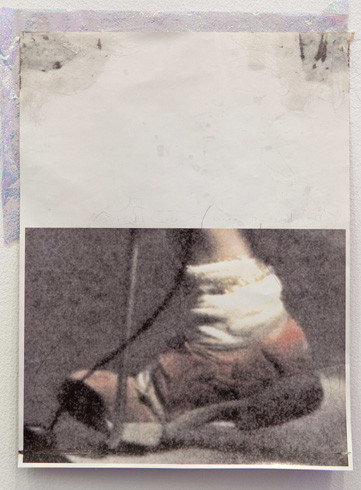 Opening reception Thursday February 23rd from 5 to 8 pm
Galleri Riis has the pleasure of presenting our first exhibition in Stockholm with the Danish artist Martin Erik Andersen (b. 1964, Copenhagen). Andersen is one of Denmark's most prominent contemporary artists, working with a wide range of techniques and materials expanding and challenging the traditional sculpture genre. His oeuvre spans between embroidery, works on paper, video, sound and light works and sculptural objects. Through a seemingly unlimited variation of elements such as scaffolding, neon lights, scent, concrete, plants, fabric, oriental rugs, silicone and polyester casts, he builds works and installations that often has its starting point in lyricism, music, religion and historical references. In his artistic practise the body, the intellect and spatiality is often closely linked. The works may have smell and sound and are folded in many layers, transparent, flickering and rough looking, but at the same time seductively sensuous. They insistently make the viewer want to participate, to enter his topography. One wants to crouch to see what lays down by the floor, what lays behind – perhaps partially hidden or reflected in a mirror – or look up to the ceiling and the tall bamboo and steel constructions that create a spatial skeleton. Surrounding this structure, the artist builds a microcosm with an almost ritual care. The different elements are permeated by an inner grammar and logic that gives the viewer a new perspective on familiar surroundings.
The exhibition in Galleri Riis will, besides a number of smaller works, include the large installation "Scaffolding (From a Corruptible to an Incorruptible Crown – Civilization of Discontent)" from 2011. A bed of bamboo with carefully folded pieces of fabric lay on the floor, surrounding it are plants and plant lights, small rusty iron structures, seashells filled with cigarette butts, concrete fundaments with sheer fabric, veiled loudspeakers and videos projected onto pieces of chipboard leaning against the wall. Another important work is "Freud's Gashgai", 2011/12, a polyester cast originating from Sigmund Freud's oriental rug that draped his divan.
Martin Erik Andersen lives and works in Copenhagen, where he studied at The Royal Danish Academy of Fine Arts and now holds a professorship in the department of sculpture.