Daido Moriyama
Memory of my Eyes
December 01, 2011 – January 15, 2012, Stockholm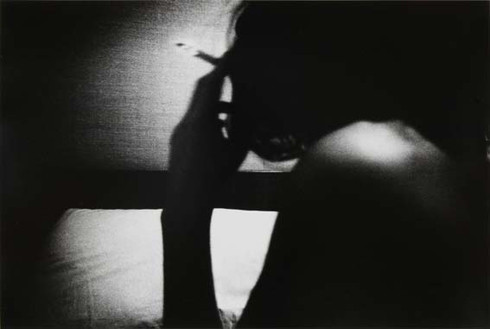 Opening reception Thursday December 1st 2011 from 17-20
Galleri Riis has the pleasure of presenting our first exhibition in Stockholm with the master photographer Daido Moriyama (b. 1938 in Osaka). It is also the very first solo presentation of Moriyama's works in Sweden.
Daido Moriyama has since the 1960s been one of the foremost photographers interpreteting Japanese post-war society. He has constantly explored and experimented within the medium, searching for new approaches to expand and maximize the potential of the photographic practice. As a result of his attitude and manner of working, his oeuvre is comprised of – in addition to his photography – several volumes of texts, experimental publications and collaborations such as Provoke magazine, the establishing of workshops, extensive exhibitions, as well as the publication of a vast number of photography books valued to be among the most significant publications of Japanese post-war photography.
Daido Moriyama's works reflect a Japanese society influenced by the collision-like meeting between Western culture and the break with traditional Japanese values. Characteristic for his work is an intensive immediacy, strong black and white contrasts, grainy and unsharp images, unusual angles and compositional croppings. His sources of inspiration in the end of the 1960s and 70s were William Klein's street photography from New York, Andy Warhol's silk screens of documentary police photographs, and Jack Kerouac's novel On the Road. The publication Farewell Photography (1972) marked the culmination of sharp contrasts and dissolution of the motifs, which are reduced to diffuse shapes. Daido Moriyama has an active presence today, still working with new works and projects. An example is his performance in New York in November 2011, a restaging of Moriyama Daido Printing Show, a mythical performance which he first did in Tokyo in 1974.
The exhibition in Galleri Riis Stockholm will include a selection of some 50 modern prints executed by Moriyama, with images from the last 30 years. The title "Memory of my Eyes" encompasses silver gelatin photographs with motifs from Japan and Tokyo in particular, as well as other cities around the world. The exhibition includes mostly works in smaller formats, but also a group of larger works. On the occasion of the exhibition, we will have a significant selection of Moriyama's many publications available to the public.
Among some of Daido Moriyama's most important exhibitions are New Japanese Photography in The Museum of Modern Art in New York, 1974, the large retrospective presentation Daido Moriyama: Stray Dog in San Francisco Museum of Modern Art, 2000, and On the Road in Osaka National Museum of Art, 2011. In the Fall of 2012, Tate Modern in London will present the exhibition William Klein / Daido Moriyama.