Bård Breivik
Circumnavigation
January 28 – March 04, 2012, Oslo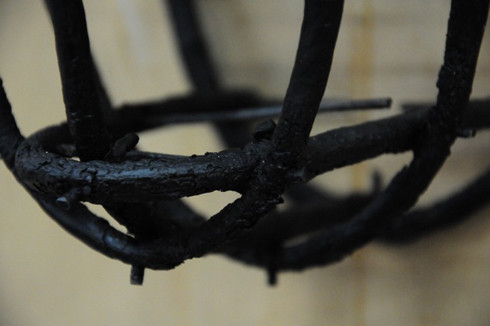 Opening reception Saturday January 28th 2012 from 12-16.
The title "Circumnavigation" refers to the point of departure for many of the works in Bård Breivik's tenth exhibition in Galleri Riis, where the same elements of craft, materials, and methods of construction first seen in his breakthrough works from the late 1970s- and early 1980s, reappear. Archaic wall-based shapes reminiscent of vessels or containers are constructed of different types of branches and roots (some of which are cast in bronze, patinated or nickled) or of brass wire. The exhibition also includes new examples of his interest in mathematically generated shapes, in sculptures which are machined with 3D computer in aluminum and cibatol. Breivik's characteristic and rough – yet precise – worked sculptures in black granite will also have a prominent place, along with new works in cast aluminum and lacquered carbon fiber from "Score for a longer conversation", an ongoing series of wall objects in 120 cm height. As a whole, the works testify to Breivik's ability to challenge the borders and limits of art, design, craft and hi-tech engineering.
Bård Breivik (b. 1948) is one of Norway's leading artists in his generation, and is well represented in most museums and collections throughout Scandinavia. In addition to actively exhibiting, Breivik has in recent years completed several public commissions, one of which is a monumental relief in stainless steel for the new Department of Informatics at the University of Oslo. Breivik lives and works in Oslo.