Marit Følstad
Last Day of Magic
January 29 – March 01, 2009, Oslo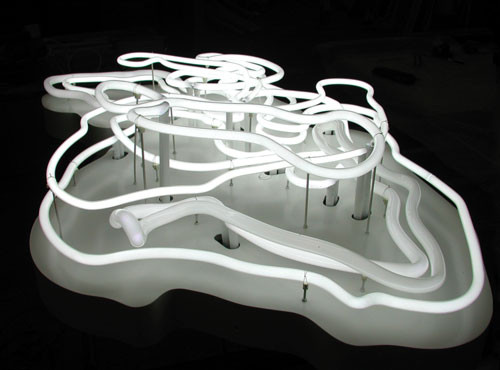 The first exhibition in our new project room is Marit Følstad's video work "With the Lights Out". Følstad (b. 1969) received her education from Glasgow School of Art in Scotland and School of the Art Institute of Chicago in USA, and has since held an artist residency in ISCP in New York, and participated in many exhibitions in Norway and abroad. Her work was most recently seen in the exhibition "It's All in My Head" in Kunstnernes Hus in Oslo, in 2006. Følstad lives and works in Oslo.
Her production in recent years has included the use of neon, video and sound. Thematically, Følstad focuses on the transient contra the permanent. A field or space in between which can be defined as time, or the experience of time. Ideas and moods are translated into Følstad's own artistic expression through actions and stagings. Samplings are further developed in a process reminiscent of negative feedback, where information is slowed down and time is prolonged.
In the main work "With the Lights Out" from 2008, our attention is drawn to the play of repeated cascades of organic forms, which like an undecipherable languange is rolling out of a smoking man's mouth. The formal sequence is enhanced by a space-defining soundtrack which contributes to liberating the beholder from rational perception and to open up for emotional reception. In addition, Følstad exhibits several works in the office and lounge. In the neon piece "Shadowplay" she has transformed the video smoke's dynamic shape into a still and shining object, and "Last Day of Magic" is a lazer-cut aluminum wall relief, based on the eruptive alteration of a photograph.