Sverre Wyller
Miramichi
September 30 – October 31, 2010, Oslo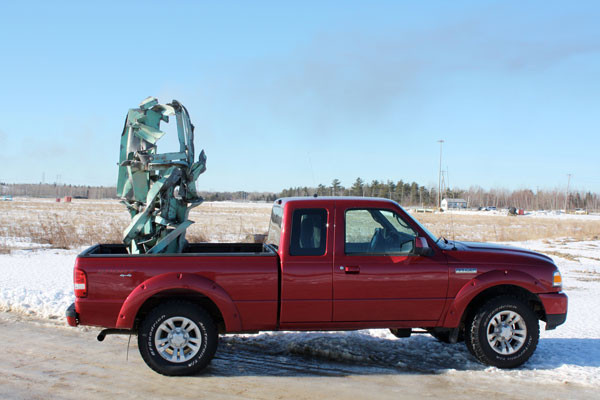 Opening reception Thursday September 30 from 19-21.
Sverre Wyller (1953) presents in the exhibition Miramichi new works executed in the period August 2009 to August 2010, in Miramichi, New Brunswick, Canada. Wyller has worked on location with scrap-goods from a shut down paper mill, and has, with the same machines and tools used in the demolition of the facility, created three groups of works: Implosions,
Relics, and Drawings.
The sculptures fully show Wyller's interest – and virtuousity – in the handling of found and used materials, and is a continuation of his long ongoing work with the combination of such materials in sculptures, as well as in painting and collage. This aspect of Wyller's work is also clearly seen in Signs, the second group of works in the exhibition. Signs is a series of paintings from the past year, executed in acrylic paint on used and new custom-made traffic signs in the artist's studio in Maridalen, in the outskirts of Oslo.
This is Sverre Wyller's tenth exhibition in Galleri Riis, and his works were last shown in Oslo in the large retrospective exhibition To og tyve (Twenty-two) in Kunstnernes Hus in Oslo in 2006.
Sverre Wyller lives and works in Oslo and Maridalen.