Ole Jørgen Ness
The Elixir of Chaos, Babel and Bedlam
January 29 – March 01, 2009, Oslo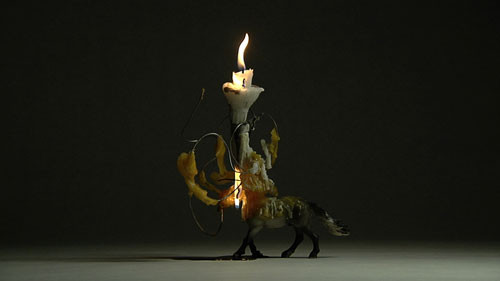 Ole Jørgen Ness (b. 1961) received his education from the College of Art and Design and The Royal Norwegian Art Academy in Oslo. With his manifold artistic production, he is a leading figure in his generation, continuously inspiring new. Ness lives and works in Oslo.
"The Elixir of Chaos, Babel and Bedlam" is his sixth one-man show in Galleri Riis. Since the exhibition "Anasognosia" (Galleri Riis, 2005), Ness has exhibited in Bergen Kunsthall (The Festival Exhibition "Realms of Sentiment", 2006) and Blaafarveværket in Modum ("Gikk meg over sjø og land", 2008).
The exhibition is comprised of new drawings executed with pen and marker on paper; longlasting mental dives which the artist describes as a visual manifestations of glossolalia (speaking in tongues). The series is titled "Pandemonium." "Hubbub" are neo-vitalistic plaster sculptures in which the artist, by deconstructing, twisting and wringing the constantly growing material, approaches a plastic imprint of an ongoing process of reflection. "Panacea" is a series of reworked photographs dealing with sexual sublimination, with psychological references, such as Freud's penis envy, Jung's anima/animus projection, and Lacan's law of the father. "Mellow My Mind" and "Tutorial" are, respectively, a video work and a bronze sculpture with references to the centaur Nessus. Nessus was, according to the myths, instrumental in the education of Hercules. The title, "Tutorial", refers to a well-known lesson – the danger of burning one's candle in both ends.