Dan Wolgers
The day is so short but the night is so long / New and selected works
October 30 – November 23, 2003, Oslo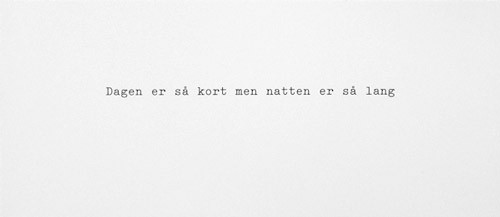 Thursday, October 30th, Galleri Riis opens its fourth exhibition of the work of the Swedish artist, Dan Wolgers. In this exhibition, Wolgers will show a series of entirely new works in combination with objects from recent years.
Dan Wolgers (b. 1955) is one of Scandinavia's most talked about and influential artists of his generation. When he received the prestigious, honorary stipend from the Royal Swedish Academy of Art last year, it was with the following explanatory statement from the jury:
"Wolger's art is characterized by great integrity and intelligence and accommodates simultaneously playfulness, humor and absurdity. He poses questions and analyzes – his art becomes a "distorting mirror" for our human frailties, the impossible and the unexpected in the everyday. There is a great earnestness in his works, expressions which stimulate both the intellect and the emotions."
The new works in this exhibition are inspired by gravity, thus described by Wolgers himself:
"When all is said and done, it's only gravity that matters. What would everything be without gravity? Emptiness! Weightlessness, which everyone so lyrically hails as a powerless and badly played love song, what is that compared with gravity? Perpetually rousing mankind to its corporeal rendez-vous with the world – violent, destructive and bloody. Round about us all things lay faithfully against the ground. In secret they kiss each other, but only in three places – never more than three places. Calm, clean, eternal."
Dan Wolgers lives and works in Stockholm. He was educated at the Royal Swedish Academy of Art from 1980-85, where he later was a professor, in the years 1995-98.