Andreas Eriksson
Roundabout the Hardship of Believing
March 05 – April 04, 2009, Oslo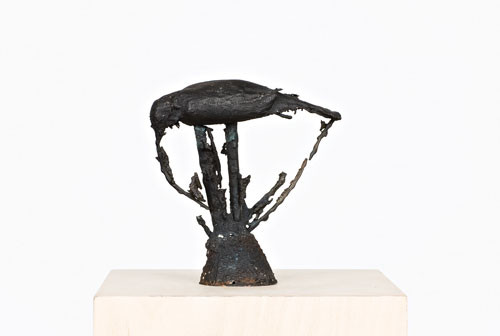 Galleri Riis will on Thursday March 5th open our third exhibition with the Swedish artist Andreas Eriksson.
Eriksson (b. 1975) received his artistic education from the Royal University College of Fine Arts in Stockholm, and lives and works outside of Hällekis in Västergötland.
The exhibition "Roundabout the Hardship of Believing" will include new paintings in combination with color photographs, as well as the sculpture series "Content is a Glimpse". These small bronze sculptures will be shown in combination with a selection of new works in his series "Shadow paintings". The exhibition is as such a continuation of the broad presentation in Museum Moderner Kunst in Vienna last autumn. He will be exhibiting in the Berlin gallery Sommer & Kohl this spring, and is currently working on a solo exhibition in Moderna Museet in Stockholm 2010.
Eriksson's production in the past years show a versatile artist with a unique sensibility and ability to easily combine expressions and media. The quiet and introverted poetry of his works have, at the same time, stood in contrast with recent focus on critical-analytical positions in contemporary art. His point of departure and subject matter is the nature surrounding his home in the Swedish countryside; and the works have a universal and existential expression, virtuously orchestrated by the artist in sequences of images, often a finely tuned interplay with architecture and sculpture.