Marie Buskov
The Weaver's Stroke / New Sculptures, Works on Paper and Wallpaintings / A four day exhibition
October 15 – October 18, 2020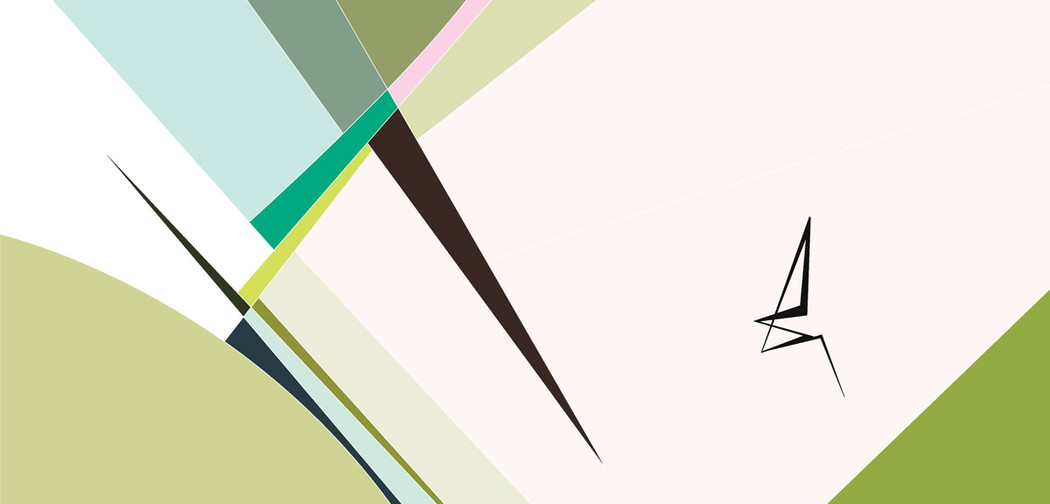 The Weaver's Stroke is a solo exhibition including wallpaintings, new bronze sculptures and works on paper by Marie Buskov. The project was conceived and produced for the 2020 edition of Market Art Fair in Stockholm which was canceled due to Covid-19. Over the past couple of months, Buskov has reworked the wallpaintings and adapted the exhibition to our main gallery space, and it is with great pleasure that we can now invite you to take part in this project as an 'Art Fair exhibition' over the course of four days, from Thursday, October 15 through Sunday, October 18.
Please note that these dates are also concurrent with the final days of Marie Buskov's ongoing exhibition, Open Circle Closed Solid, on view at Kunstnerforbundet.
The new bronze sculptures – the freestanding Open Fold and the wall-based The Weaver's Stroke are both developed from ideas that were present in Buskov's first exhibition with the gallery in 2019, This Particular Place. The sketches have been drawn by hand and with computer-assisted design, sculpted into folded and sharp-edged 3D volumes.They are subsequently cast in bronze and given a skin of smooth black patina, evoking late modernist sculpture while also exuding a mystic aura as if they have travelled from another time and place.
The wallpaintings are partly derived from the new works on paper entitled Lightcurves. These compositions are made from interacting curved shapes in supple colors and executed with watercolor and casein tempera on 640 gr. Arches paper. Related through their form and palette and framed by the white walls of the gallery that shift in and out of the wallpaintings, they create a continuum throughout the space.
Marie Buskov (b. 1980 in Randers, Denmark) studied at The Royal Danish Academy of Fine Art in Copenhagen, and holds a MFA from Oslo National Academy of the Arts. She has produced several public commissions, the latest being integrated glass paintings, altarpiece and liturgical furnitures for the new Sola Church in Sola, Norway. Her works are in the collections of the National Museum of Art, Architecture and Design in Oslo and The City of Oslo Art Collection. She lives and works in Oslo.
//
The Weaver's Stroke er en soloutstilling med veggmalerier, nye bronseskulpturer og arbeider på papir av Marie Buskov. Utstillingen var opprinnelig utviklet og produsert for Market Art Fair i Stockholm, som måtte avlyse sin 2020-utgave på grunn av Covid-19. I løpet av de siste månedene har Buskov omarbeidet veggmaleriene og tilpasset utstillingen til vårt galleri, og det er med stor glede vi nå kan invitere til visning av prosjektet over en fire dagers periode fra og med torsdag 15. oktober til og med søndag 18. oktober.
Disse datoene er også de siste for Marie Buskovs nåværende utstilling Open Circle, Closed Solid i Kunstnerforbundet i Oslo.
De nye bronseskulpturene, den frittstående Open Fold og den veggmonterte The Weaver's Stroke, representerer begge en videreføring av ideer som var synlige i Buskovs første utstilling This Particular Place i Galleri Riis i 2019. Håndtegnede skisser og collager transformeres og modelleres digitalt til foldede og rettlinjede tredimensjonale modeller. Disse er så støpt i bronse og til slutt behandlet med en silkemyk svart patina. Ved første øyekast kan de føre tankene til senmodernistisk abstrakt skulptur, men utstråler også en mystisk aura, som om de har reist hit fra en annen tid og sted.
Veggmaleriene er delvis inspirert av de nye arbeidene på papir med tittelen Lightcurves. De er romlige komposisjoner av kurvede former i en lys fargepalett, utført med akvarell og kasein-tempera på 640 grams Arches papir. Slektskapet i form og farge med veggmaleriene, og de hvite galleriveggene som glir sømløst inn og ut av disse, skaper en usynlig innramming og et sammenhengende forløp gjennom rommene.
Marie Buskov (f. 1980 i Randers, Danmark) er utdannet ved Det Kongelige Danske Kunstakademi i København, og har en mastergrad fra Kunsthøyskolen i Oslo. Hun har utført flere offentlige utsmykkinger, den seneste for nye Sola Kirke i Sola, hvor hun har laget et integrert glassmaleri i arkitekturen samt altertavle og liturgiske møbler. Hennes arbeider finnes i samlingen til Nasjonalmuseet for Kunst, Arkitektur og Design i Oslo og Oslo Kommunes Kunstsamling. Hun bor og arbeider i Oslo.
//
Gallery hours this week:
Thursday – Friday 12-5 pm
Saturday – Sunday 12-3 pm