Per Berntsen
May 1985. Landscapes from Eggedal
May 15 – June 26, 2020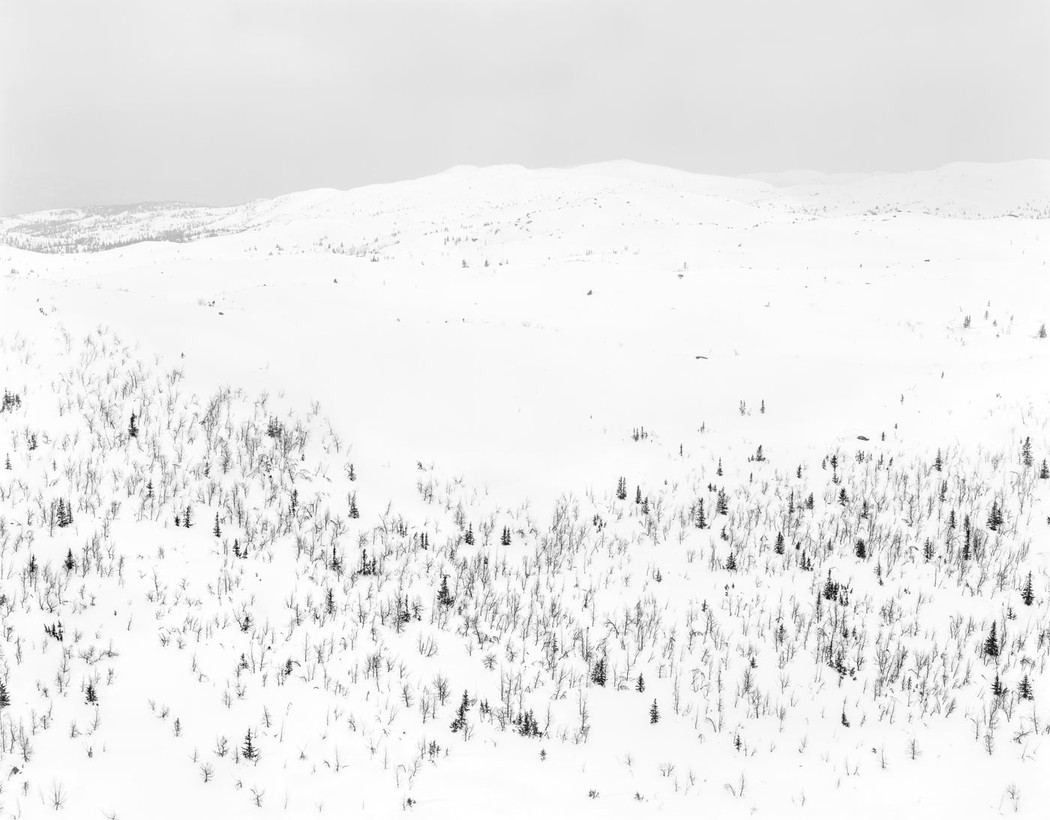 (Scroll down for English)
Fjellet omkring Eggedal i Buskerud var et viktig område for Per Berntsen i hans arbeid med analoge svart/hvitt landskapsfotografier på 1980- og 90-tallet. Høsten 1985 lagde han en serie subtile bilder derfra som var studier av vegetasjonens stofflighet og nyanser, i bilder uten horisont. I første halvdel av mai samme år tok han et antall bilder av utsikter over snødekte landskap. Det nærsynte blikket i høstbildene er erstattet med vide utsyn, men motivene deler all-over utrykket fra høstbildene, med et spekter av grafisk effekt mellom hvit snø og mørk gran- og bjørkeskog. Kun fire av disse motivene er vist ved tidligere utstillinger, men har blitt velkjente verker i Berntsens oeuvre. I forbindelse med sitt arbeid med å digitalisere film-negativer fra sin tidligere produksjon har Berntsen restaurert åtte ikke tidligere viste bilder fra denne serien. De er nå printet digitalt i stort format, og det er med stor glede vi for første gang kan presentere disse verkene under tittelen "Mai 1985" – nøyaktig 35 år etter at opptakene ble gjort.
"Blikket i Berntsens bilder er vandrerens blikk, men ikke den som går målrettet fra et sted til et annet for å gjøre et eller annet. Det er blikket til den som går for å kunne tilhøre, for å kunne kjenne renhet, frihet, autentisitet og muligheten av å være et komplett menneske som hører til i verden. Det er ikke som jegerens blikk, som tar dekning, men sikrer vidt utsyn; Berntsens kamera søker intet bytte." Åsmund Thorkildsen, fra hans essay BLIKK*STILLE*HER*OPP*BORT*OVER*IGJEN i katalogen til utstillingen "Per Berntsen, Photographs", Kunstnernes Hus, Oslo, 1995.
Per Berntsen (f. 1953 på Åmodt i Modum) er en av veteranene innenfor kamerabasert kunst i Norge og har vært en viktig representant for mediets integrasjon og aksept i norsk kunstliv. Berntsen har sin kunstneriske utdannelse fra Trent Polytechnic / Derby College of Art i England under siste del av 1970-tallet og har vært en aktiv utstiller siden sin debut i Fotogalleriet i Oslo i 1980. Viktige prosjekter i senere tid har vært utstillingen og publikasjonen "Generator", vist i Galleri Riis i Oslo i 2008 som dokumenterte generator-hallene i 100 fjellkraftverk i Sør-Norge, "Down Under Up North" i 2010, et kunst- og dokumentasjons-prosjekt om gruvedriften i Kirkenes. I 2013-2015 reiste Berntsen i de nordlige delene av Norge, Sverige, Finland og Russland og gjennomførte en kunstnerisk dokumentasjon av taigaen, landskapet som binder disse områdene sammen. Dette resulterte i boken og utstillingsturneen "Metsä" i 2018. Utstillingen "Veståsen" i Galleri Riis i 2019 markerte en ny utvikling i Berntsens kunstnerskap. Arbeid i felten i dette fjellområde i Tinn, nær Berntsens bosted, resulterte i en serie store fargefotografier, de første han noen gang har stilt ut.
Per Berntsens arbeider er representert bl.a. i samlingene til Museum of Modern Art i New York, Bibliothèque Nationale i Paris, Nasjonalmuseet for Kunst, Arkitektur og Design i Oslo, AKO Art Foundation / Sørlandets Kunstmuseum i Kristiansand og Oslo Kommunes Kunstsamlinger i Oslo. Per Berntsen bor og arbeider i Tinn i Telemark.
//
The mountain area surrounding Eggedal in Buskerud County, Norway was an important location for Per Berntsen when working on his analogue black and white photographs of landscapes in the 1980's and 90's. In the fall of 1985, he made a compelling series consisting of images without a horizon, which investigated the shifting nuances and textures of the ground and vegetation in the area. In the first half of May that same year, Berntsen captured a number of images from views over the snow-covered landscape. With a graphic spectrum composed from the white snow and the dark conifer and birch trees, these wide views share the all-over effect with the later vegetation studies. Only four of these images have previously been exhibited, but they have become an important and characteristic part of Berntsen's oeuvre. While working on the digitalization of his early film negatives, he has restored eight additional images from this series. These are now printed in large format, as archival inkjet prints on baryta paper. We are pleased to present these works for the first time, under the title 'May 1985', exactly thirty-five years after they were conceived.
"The gaze in Berntsen's pictures is that of the wanderer, but not one that is goal-oriented, moving from one place to another in order to do something specific. It is the gaze of one who walks in order to belong, to be able to know purity, freedom, authenticity and the possibilities that comes with being a complete human being who belongs in the world. It is not the gaze of a hunter, who takes cover while securing a wide open view; Berntsens's camera seeks no prey" Åsmund Thorkildsen, from his essay STILL*GAZE*UP*HERE*OVER*THERE*AGAIN in the catalogue published for the exhibition "Per Berntsen, Photographs", Kunstnernes Hus, Oslo, 1995.
Per Berntsen (b. 1953) is one of the veterans of camera-based art in Norway and an important advocate for the medium's rise and acceptance on the local art scene. Berntsen was educated at Trent Polytechnic / Derby College of Art, England, during the second half of the 1970's and has exhibited actively since his debut in 1980 at Fotogalleriet in Oslo. Important recent projects are the 2008 publication and exhibition at Galleri Riis, 'Generator', documenting 100 generator halls from hydroelectric power plants in southern Norway, and 'Down Under Up North' in 2010, a documentation and art project about the mining industry in Kirkenes. From 2013-2015, Berntsen undertook an artistic documentation of the Taiga, the landscape connecting the northern parts of Russia, Finland, Sweden and Norway. This project resulted in the publication and exhibition tour 'Metsä' in 2018. In 2019, a new development in Berntsen's work was introduced, with a series of landscapes from the Veståsen area in Tinn, Telemark, close to his home. Resulting from field work in 2018 and 2019, these large archival inkjet prints on baryta paper represented a recognizable theme in Berntsen's oeuvre – the unpopulated landscape – but they also marked a significant new departure as they were the first color images that he had exhibited to date.
Per Berntsen's works can be found in the collections of the Museum of Modern Art in New York, Bibliothèque Nationale in Paris, The National Museum of Art, Architecture and Design in Oslo, AKO Art Foundation/Sørlandets Kunstmuseum in Kristiansand and the Oslo City Art Collections in Oslo. Per Berntsen lives and works in Tinn, Telemark.