Garry Winogrand
Photographs
April 16 – May 22, 2005, Oslo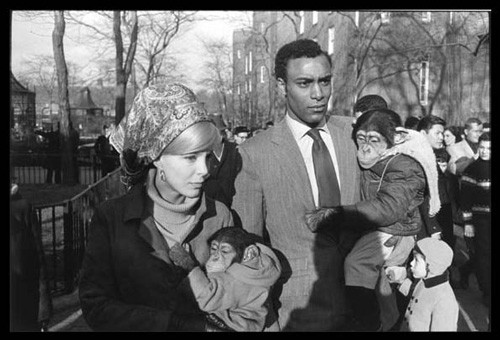 Saturday, April 16th, Galleri Riis will open an exhibition of works by the American photographer Garry Winogrand.
New York-born artist Garry Winogrand (1928-1984) developed his personal photographic style as a freelance photojournalist. In 1963 the Museum of Modern Art in New York presented the first major show of Winogrand´s works, which was later followed by two exhibitions, The Animals, in 1969, and Public Relations, in 1976.
The photographs of Garry Winogrand put a finger on the pulse of urban American post-war society and social diversity. They portrayed a superpower which was at a cultural crossroads, becoming to an increasing degree associated with consumerism and television. With predecessors such as Walker Evans and Robert Frank, Winogrand and his contemporaries Lee Friedlander, William Eggleston and Diane Arbus left an indelible mark on the history of photography. Winogrand is generally credited with having established "street photography" as a genre, and with his much copied use of the wide-angle lens and tilted picture-frame he exerted considerable influence over contemporary and later photographers. His technique lent itself well to his "more is more" attitude to subject and composition. Winogrand strove for complex and intricate structure in his pictures – how small, for example, could the central motif of a photograph be and still capture and hold the viewer's attention?
With a focus on the celebratory and humorous Winogrand immortalized scenes from the beach, town halls and livestock shows, tourist attractions and sporting events. Noted works from his oeuvre convey a manic sense of a life balanced somewhere between animal high spirits and an apprehension of moral disaster. Winogrand combined dramatic formalism with generous and at times palpable empathy for both his subject and his country. The images are often laden with visual puns, disquieting juxtapositions and uncomfortable confrontations, often with an element of the tragicomic.
The Museum of Modern Art, New York's influential curator of photography, John Szarkowski, considers Winogrand the most central photographer of his generation, regarding his work as richer, more complex and problematic than any other's after the Second World War. This assessment is affirmed through Szarkowski's major exhibition and its accompanying monograph, Figments from the Real World, at the museum in 1988.
Winogrand was an extremely productive artist and left behind a prodigious archive of both unedited and unprocessed work. This material has since his death been at the Center for Creative Photography in Arizona, where research into the different aspects Winogrand's considerable contribution to the history of photography continues.
We have the pleasure of showing 36 selected black and white photographs from the 1960's-1970's. These original vintage silver-gelatin prints come from private collections and the artist's estate, and a number of the works will be available for purchase. The exhibition is produced in collaboration with Peder Andreas Lund.