Juan Andrés Milanes Benito
Code Art Fair, Copenhagen
August 30 – September 02, 2018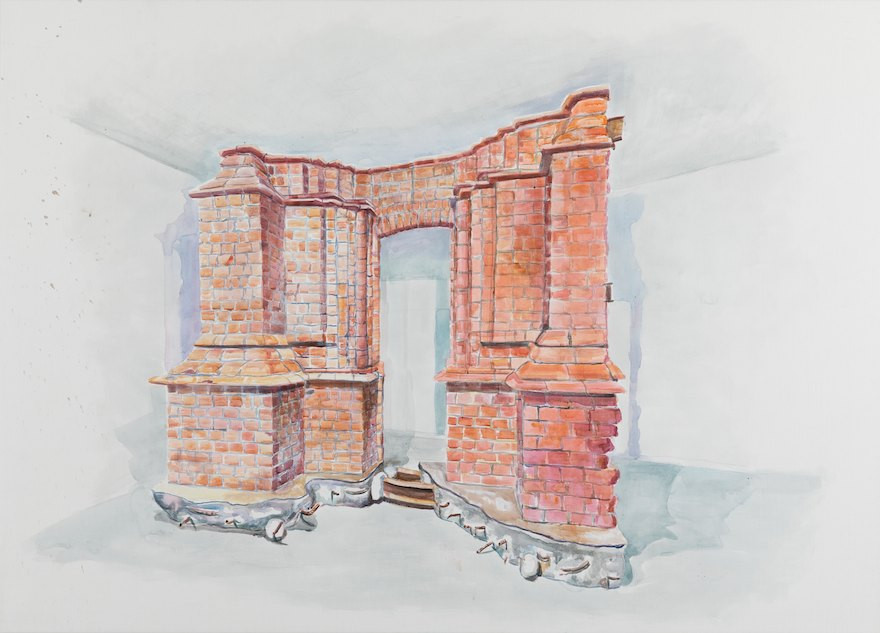 For Code Art Fair 2018, Galleri Riis is pleased to present a solo exhibition featuring Cuban artist Juan Andrés Milanes Benito. His work is characterized by his social, political, and environmental commentary, and his frequent use of precise casting, a process that is part of the narrative of his work. The act of copying and imitation refers directly to the human behavior that we pursue as participants in our social environment.
The main feature of the exhibition is Milanes Benito's sculpture, Extraction of the stone of madness, 2014, a replica of a part of the facade of the Paulus Church in Oslo, a fragment that has seemingly been ripped out of the ground and transplanted to the exhibition space.
The sculpture has perfectly rendered details of red bricks, twisted rebar and fragments of concrete; and it is presented as a static monumental sculpture, as if it has been plucked from its' original architectural context. The title of the work is borrowed from Hieronymus Bosch's painting, Cutting the Stone, 1494, which is also referred to as The Extraction of the Stone of Madness or The Cure of Folly.
Also on view are watercolor paintings by Milanes Benito which make reference to the exhibited sculpture, and other motifs relating to the artists' earlier sculptures and installations, including ties to future projects. Lastly, we will show the sculpture Dar a Luz, 2015, a meticulous replica of a wrecked street lamp.
What is real and what is not? What is genuine and what is not? What is true and what is false? Answering such questions requires honest communication, the very essence of interpersonal relationships. Misinterpretation, untruths and counterfeit products can have catastrophic consequences for human relationships, in politics and in product use. Juan Andrés Milanes Benito deals with all of these themes in his work.
Juan Andrés Milanes Benito (b. 1978) earned his
MFA
from The National Academy of Fine Arts in Oslo, 2009. He was born in Isla de la Juventud, Cuba, and lives and works in Oslo.