Dieter Roth
Reykjavik Slides & Collages, Material works, Drawings, Prints
October 07 – November 06, 2005, Oslo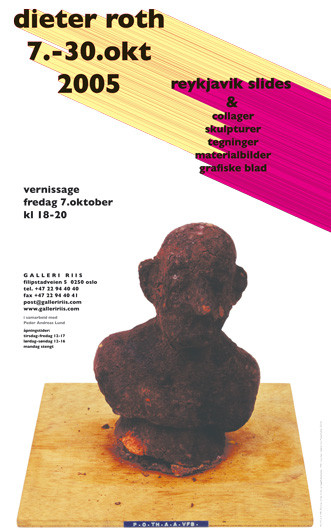 Galleri Riis, in cooperation with Peder Andreas Lund, has the pleasure of presenting the first exhibition ever in Norway of a selection of works by the Swiss-German artist, Dieter Rother Roth (b. Hannover, 1930 – d. Basel, 1998).
With his highly individual and at times iconoclastic and undermining attitude, Dieter Roth has for the most part been unknown to a broad audience. This in spite of his strong position within the international art scene and his continual influence on new generations of young artists. Roth was suspicious of gallerists and art dealers, and skeptical of museum curators and other interpreters of his work. He also lived a nomadic existence, and his two most important bases, Iceland and Basel, were on the outskirts of the major centers of the artworld. Since his death, however, his entire lifework has been the subject of renewed interest and research, which has been manifested in a comprehensive, three-volume oeuvre-catalog, and in the major retrospective "Roth-Zeit / Roth-Time" at the Schaulager Basel and the Museum Ludwig in Cologne in 2003, and at the Museum of Modern Art and PS1 in New York in 2004.
Having experimented early on in his career with graphics, design, poetry and music, Roth established himself in the early 1950's as a competent practitioner of a type of geometric abstract expression influenced by the Zurich artists Max Bill and Richard Paul Lohse. While working in Copenhagen in 1956, Roth experimented with film and made his first "artist-books", a medium to which he would continually return. In Copenhagen he also met his first wife, the Icelandic art teacher Sigridur Björnsdottir, and thus began Roth´s life-long relationship with Iceland.
At the beginning of the 1960´s Roth met the Swiss artist, Jean Tinguely, and was introduced to artists such Robert Rauschenberg. His conceptions of what art can be, and not least, what it can be made of, were upended, and this period marked the beginning of his interest in utilizing challenging and heretofore unfamiliar materials in the production of art, materials such as chocolate, milk, fruit and other foodstuffs. That the artworks as a result took on lives of their own, on a steady course toward disintegration and decay, became one of the essential expressions that occupied Roth.
By the end of the 1960´s and through much of the 1970´s, Roth worked with the printer and publisher, Hansjörg Mayer, on the publication of artist-books, while leading a wanderer's life around Europe and the USA, but increasingly to and from Iceland. After having settled down somewhat at the beginning of the 1980´s he began the increasingly close artistic collaboration with his son, Björn. Roth had begun by that time to create collages out of detritus from his studio and worktables, as portraits of the artist and his studio. He also began creating interactive assemblages, sculptures with musical instruments and sound recording/playback components. Some of these works grew and changed over time and became monumental installations. Working with drawing and collage remained fundamental to Roth´s artistic activity the last twenty years of his life.
In the selection of works (from 1969-97) for this exhibition, we are presenting very distinct examples of work within graphics, sculpture, collage, drawing and mixed-media pictures. In addition, we are showing the major work, "Reykjavik-slides" 1973-75 / 1990-93, a slide installation with eight projectors showing Roth´s 30,000 photographs of all the houses in Reykjavik.
Roth´s work developed over 50 years with profusion, diversity and logical coherence, and it establishes him as one the most unique and important artists of the second half of the 20th century. He went from classic modernism to poet-modernism, and grappled with fundamental issues such as artistic identity, the nature of art, which materials can be used for the production of art, and the hierarchy of the different artistic media. Excess and order, destruction and creativity, playful humor and critical questioning, the repulsive and the beautiful — all are balanced elegantly throughout his oeuvre.
Dieter Roth's son Björn Roth will be present at Galleri Riis the days prior to the opening.