Walker Evans
60 photographs and photo-murals
May 13 – August 20, 2006, Oslo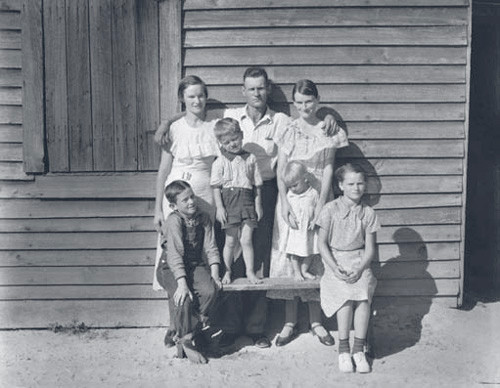 Saturday, May 13th, Galleri Riis has the pleasure of opening an exhibition with selected works by the American photographer Walker Evans.
Walker Evans' (1903 -1975) depictions of the everyday American life, with its people and objects, from the 1930's until his death in 1975, have had great impact on following generations of photographers and artists. His work has in recent years achieved new recognition and interest from the art scene, and is constantly an important reference for all those working with pictures.
His photographic style was economical and dry, an unpretentious attempt to present the beholder with precise and detailed, not to mention straightforward, depictions of everyday motifs such as interiors, exhibition windows, advertisement posters, and architecture. His work constitutes a personal interpretation of an American documentary tradition, with a sensibility giving the work an enigmatic poesy and complexity.
Evans began taking pictures in earnest in 1928, the year after his return from studies in Paris. He then documented Victorian houses in New England and New York, along with victims and environments of the Great Depression- as seen in a series of direct portraits. During 1932 and 1936, he participated in a government survey of the means in the villages. At the same time, for his own sake, he photographed Antebellum architecture in the South.
Walker Evans published the book "Let Us Now Praise Famous Men" in 1941, with the author James Agee, documenting the lives for a group of sharecroppers in Alabama in the 1930s. Evans' photographs for The Farm Security Administration, as well as said book, represent his most important and influential works. In 1938, they are presented in the book and exhibition titled "American Photographs" in the Museum of Modern Art in New York, and tour the USA the next two years. Evans began later to take random pictures of people on the subway and on the street, forgoing control of composition and lighting, for the sake of the presentation of the moment.
Walker Evans worked as a journalist in Time Magazine from 1943-1945, and in Fortune Magazine as both a writer, photographer and independent editor the next 20 years. Many of his so-called photo-essays were published with his own texts in Fortune Magazine. In 1965, Evans became professor of graphic design at Yale University, where he worked until his death in 1975.
His last great exhibition before his death, was in the Museum of Modern Art in New York in 1971. The exhibition was curated by John Szarkowski, in collaboration with Evans, and was comprised of 202 small silver-gelatin prints, and 13 large photo-murals (large prints mounted on panel).
All photographs in the exhibition in Galleri Riis are motifs from the late 1920s to the 1960s, with emphasis on the 1930-40s, made by Evans for the 1971-exhibition, and are doubles from MOMA's collection, which over the last year have been bought from the museum and mediated to Scandinavian private collections.
The exhibition present excellent and well-known examples of many aspects of Evans' oeuvre as innovative documentary photographer and artist, and is the first great presentation of his works in Norway. The exhibition is a collaboration with Peder Lund, and is at this time the last in a series of exhibitions of influential American photographers in Galleri Riis (Robert Frank 1986, William Eggleston 2002, Garry Winogrand 2005).