Lars Monrad Vaage
Fruit & Futurism
April 16 – May 10, 2009, Oslo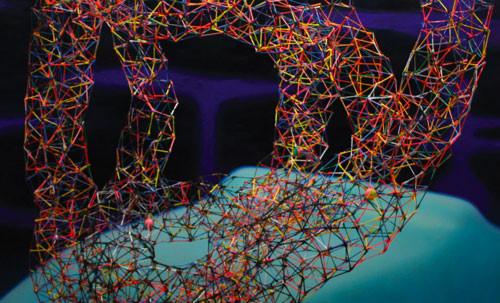 Galleri Riis has the pleasure of presenting our second exhibition with the Norwegian artist Lars Monrad Vaage (b. 1973).
Vaage received his artistic education from the Art Academies in Oslo and Helsinki, and works mainly with painting and drawing, but also with sculpture and video. Technical virtuosity in combination with surrealistic motifs drawn from the artist's characteristic mythology, contribute to unique paintings marked by both lightness and tristesse. Sublime and precise paintings, juxtaposed with intimate drawings and other medias, create dynamic installations.
The exhibition, in the gallery's smaller exhibition room, consists of new paintings in large and medium-sized formats, and are presented surrounding a large sculpture constructed of painted Q-tips.
Vaage lives and works in Berlin.