Günter Umberg
Bilderhaus 4, Oslo
March 02 – March 31, 2007, Oslo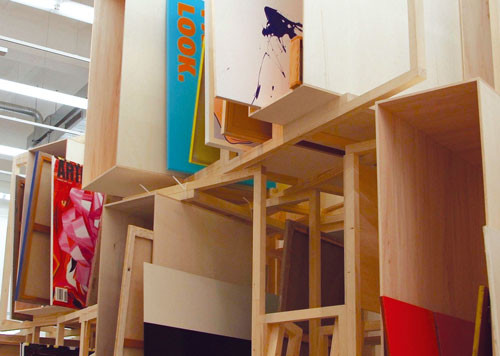 Galleri Riis will on Friday, March 2nd open the exhibition Bilderhaus 4, Oslo with new works by German painter Günter Umberg.
Umberg (b. 1942) is one of the foremost representatives of radical painting, a school of painting that has built on the development of concrete paintings since the 1960s. His mainly black paintings on exact and hard supports such as wood or aluminum – are created by the time-consuming application of pigment and painting medium in many layers, giving an intense experience of space.
Umberg's precise hanging of paintings in any given exhibition space (often modified architectonically) serves to emphasize this quality so inherent in the paintings.
In recent years, Umberg has curated several exhibitions where he has juxtaposed his own work with that of other artists, such as in Museum Ludwig in Cologne, and Museum Moderner Kunst in Frankfurt. His interest in working both curatorially and with installation has for the time being culminated in his exhibition in the museum Haus Konstruktiv in the beginning of this year.(www.hauskonstruktiv.ch)
In the Galleri Riis exhibition, new paintings by Umberg will be featured in a modified exhibition space, and in our show room is a large sculpture in the form of a Bilderhaus (house of painting). The Bilderhaus is a complex composition of wooden beams and panels, which is to be filled with works of art. The Oslo version will be made for the collector Erling Neby, and the artist will fill the sculpture with a selection of works from the Erling Neby Collection.
Umberg's last exhibition in Norway was in Galleri Riis, in 1998.
Günter Umberg has for several years held a professorship at the Art Academy in Karlsruhe. He lives and works in Cologne and in Corberon, Burgundy.