Håvard Homstvedt
I så fall (In that case)
November 28, 2009 – January 17, 2010, Oslo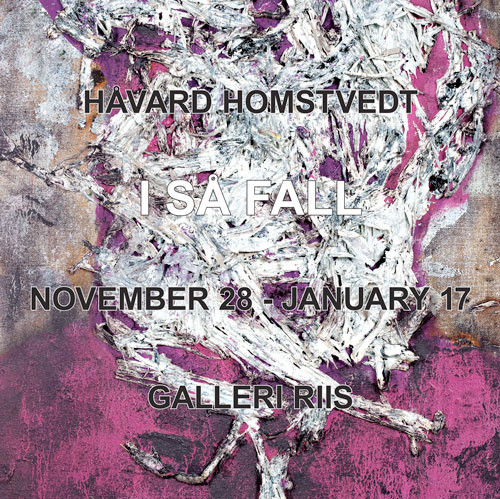 Galleri Riis has the pleasure of presenting our second exhibition with the Norwegian artist Håvard Homstvedt. Homstvedt (b.1976) received his artistic education from Yale University School of Art (2003) and Rhode Island School of Design (2000). Recent exhibitions include Kantor/Feuer Gallery in Los Angeles (2006), Galleri Riis (2007), Art Basel/Statements (2008) and Perry Rubenstein Gallery New York (2008). Homstvedt lives and works in New York, since 2003, but this fall also as artist in residence at W17, Kunstnernes Hus in Oslo.
The exhibition is comprised of paintings and sculptures produced over the last year, including central works as the 10 meter long sculpture "Maid Sew Retro" which was shown at this years Art Basel/Unlimited and in the gallery's project space a scenographic installation centered around a new large bronze sculpture.
A group of smaller paintings which the artist refers to as "The Remnant Series" are part of a continuous studio project. Almost like sculptural reliefs with their many layers of old paint left over from days of painting, they hint at their own creation while the images are abstract or suggest heads.
Borrowing illustrations from children's bibles and Christian iconography, Homstvedt has created a group of paintings of expressive materiality. Its' bodiless subject matter is grounded in a painterly sculptural prescence. Taking interest in the spiritual pursuit in art and desire of transcendence, the works show an influence of various modernist art historical influences.