Sofia Ekström
Shut the light
January 14 – February 11, 2017, Stockholm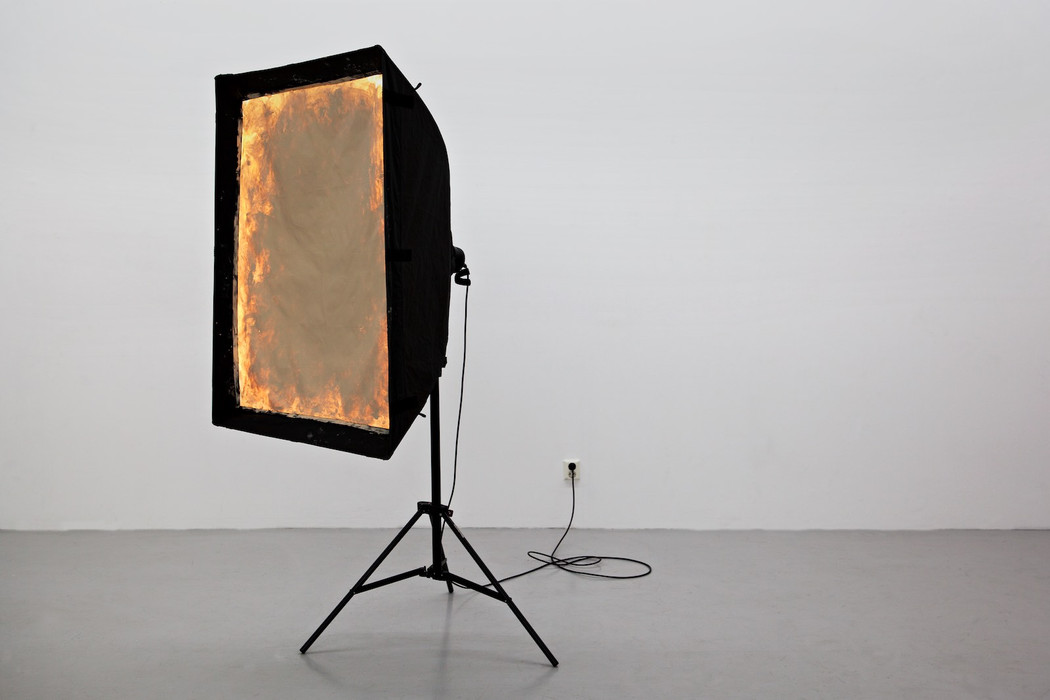 Opening reception Saturday January 14 from 12 – 16 / Vernissage lördag 14 januari från klockan 12 – 16
I want to extinguish the light that spreads from the photographs from the past. Obstruct colour. Shut the light.
Sofia Ekström's exhibition deals with the alchemy of image development. She moves between the different habitats of image reproduction; photography's inherent complications and of painting's potential. The white cube becomes a dark room with a red hue in the paintings; a filter in a sensitive development process.
This is about the development of nothing: a comment to memories in photographs being just an image. The content of the paintings and installation objects are far from given. The viewers evoke their own images and memories.
To manoeuvre in photography
To escape the photographic language without succeeding
Ekström does not opt out of any means of expression but cannot help make room for photography in the painted. She does not give the viewer a simple perception of light or darkness. Rather it is manifested in a kind of transparent object painted in white, turned black by light.
The white colour in the paintings is hidden and comes forward to respond to the light that surrounds it.
The process and concept of Ekström's earlier photographs, with their painterly form, can here be seen as inverted: painting obtaining the form of photography in close dialogue with a photographic spirit and sense of colour. The paintings are mounted on aluminium, flat with sharp edges. They are body and thought combined and made manifest in the space. This is an exhibition about light and shadow, negative and positive, filtered through art history, personal history and metaphors of photographic development.
An urge to pull down the curtain
Shut the light is Sofia Ekström's (b. 1978, Stockholm) second solo exhibition at Galleri Riis Stockholm.
---
Jag vill släcka ljuset fotografierna sprider från det förflutna. Stänga in färg. Stänga ljuset.
Sofia Ekströms andra utställning på galleriet behandlar framkallningens alkemi. Ekström rör sig mellan reproduktioners olika hemvisten. Fotografiets inneboende komplikationer och måleriets potential. Den vita kuben som mörkrum med ett rött sken i målningarna, som ett filter i en känslig framkallningsprocess.
Här handlar det om själva framkallandet av intet: som en kommentar till att minnet i fotografi bara är en bild. Innehållet i målningarna och installationens objekt är långtifrån givet. Betraktarna framkallar sina egna bilder och minnen.
Att manövrera i fotografi
Att lämna det fotografiska språket utan att lyckas
Ekström behöver inte välja bort något uttryck men kan inte låta bli att upplåta plats åt fotografi i det målade. Hon vill inte heller ge betraktaren en enkel förnimmelse av ljus eller mörker. Istället är det här manifesterat i ett slags övermålat transparent objekt i vitt, som av ljus blir svart.
Den vita färgen i målningarna göms och träder fram för att svara mot ljuset som omger det.
Målningarna är monterade på aluminium så att de får skarpa avslut. De är kropp men också tanke: Ekströms tidigare fotografier som fått målerisk gestalt har här det omvända förhållandet. Måleri som får en form av fotografi. Och som i sina färger står i nära dialog med fotografikonstens stämningar och kolorit. Negativt och positivt, en utställning om ljus och skugga. Och alltsammans filtrerat genom konsthistoria, personlig historia och metaforens framkallningsvätskor.
En vilja att dra ner ridån
Shut the light är Sofia Ekströms (f. 1978, Stockholm) andra separatutställning på Galleri Riis Stockholm.
—
Image: Sofia Ekström / Softbox, 2016, Softbox, studio light, tripod and acrylic on screenprint mesh, 210 × 90 × 100 cm