Olav Christopher Jenssen
The Arborist - Recent paintings, sculpture, works on paper
October 22 – November 20, 2016, Oslo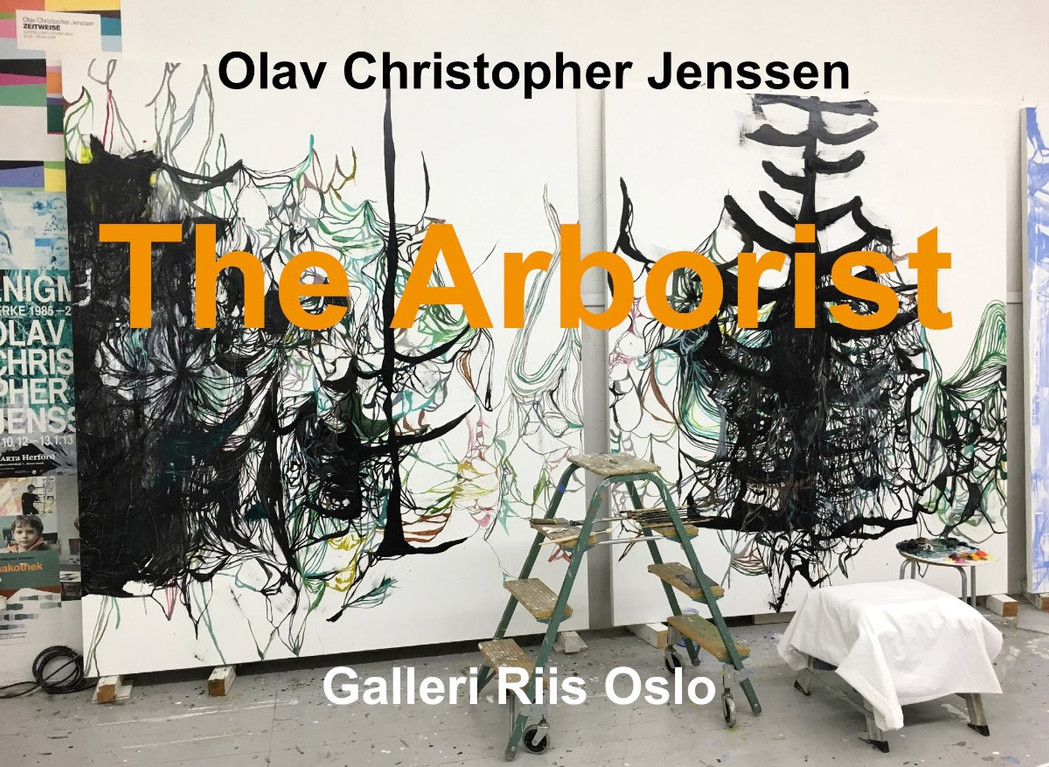 The Arborist
In Olav Christopher Jenssen's oeuvre one expression is linked to the next, as in a roundelay dance, and the organic works in this exhibition enjoy endless creative possibilities.
Although the works involve formal variations, they can be read serially. The exhibition comprise painting, sculpture and drawing ranging in scale from the monumental paintings, to his many continuous series of small works on paper, sealed with melted wax, floating in a vitrine or framed as pages of a Journal.
There are many beginnings and endings in the new series The Colibri Paintings, works that borrow their name from the remarkable tiny bird. Viewing must be done floatingly, navigating the foliage. With a for the scale too small brush, Jenssen has drawn a map to hover over, a topographical grid where different stages of his artistry is accounted for. The Arborist Paintings represent a further development in the same vein – although into a darker realm.
The exhibition unfolds simultaneously on walls and floors .The large paintings encounter the glazed ceramic sculptures, The Libertines. These are reminiscent of jade in colour, but contrary to gemstone tradition where a perfect surface hides an imperfect core, the exteriors of Jenssen's objects are precursory, almost unfinished. The exploratory form is fired and eternally preserved.
On display will also be the expedition-cases holding the results of Jenssen`s residency in Spitzbergen under the auspices of Kunsthall Svalbard earlier this year.
The artistic system is parallel with life: the diary form of the small drawings with the location noted, along with the winding traces on the walls and in the clay. Jenssen's work is also about the unintentional, the evolving language always open to unpredictable events. The subliminal and the conscious communicate, such as in life.
Olav Christopher Jenssen (b. 1954 Sortland, Norway) is one of the foremost artists of his generation from the Nordic countries and has gained international recognition for his distinctive and multi-facetted paintings, as well as for his idiosyncratic sculptures. His production encompass drawing, watercolour painting, graphic works, book illustration and books. Simultaneously working with multiple series and mediums, Jenssen alternates between the different works mentally and physically; from informal and rapidly painted pictures to more strict and formal paintings, in monumental as well as intimate formats. Always exploring and adopting new methods and techniques, his works contain both continuity and diversity. Between these works, a rich visual vocabulary has emerged; The paintings open up a philosophical space for dialogue and reflection, encouraging the viewer to unveil strata of paint and decipher cryptic symbols, as on a journey through the history of abstract painting.
Olav Christopher Jenssen lives and works in Berlin and in Lya, Sweden, and has since 2007 held a professorship at Hochschule für Bildende Künste Braunschweig in Germany. He is represented in important public collections, including Museum of Modern Art, New York, Moderna Museet, Stockholm, Centre Pompidou, Paris and The National Museum of Art, Architecture and Design in Oslo. He has had major exhibitions at Astrup Fearnley Museum of Modern Art, Oslo, Kiasma Museum of Contemporary Art, Helsinki, and Kunstmuseum Bonn, Germany. Recent exhibitions include «Journal – works on paper 1979-2012», Henie Onstad Art Centre, Høvikodden, Norway, «Recent works» Saarlandmuseum, Saarbrücken, Germany, «Isotherme, Olav Christopher Jenssen in the Engebretsen Collection», Lillehammer Kunstmuseum, Norway. In 2015 he completed a large mural work for the new Edvard Munch High School in Oslo.