Group show
Memory of a Landscape, curated by Henrik Andersson
May 21 – June 23, 2016, Stockholm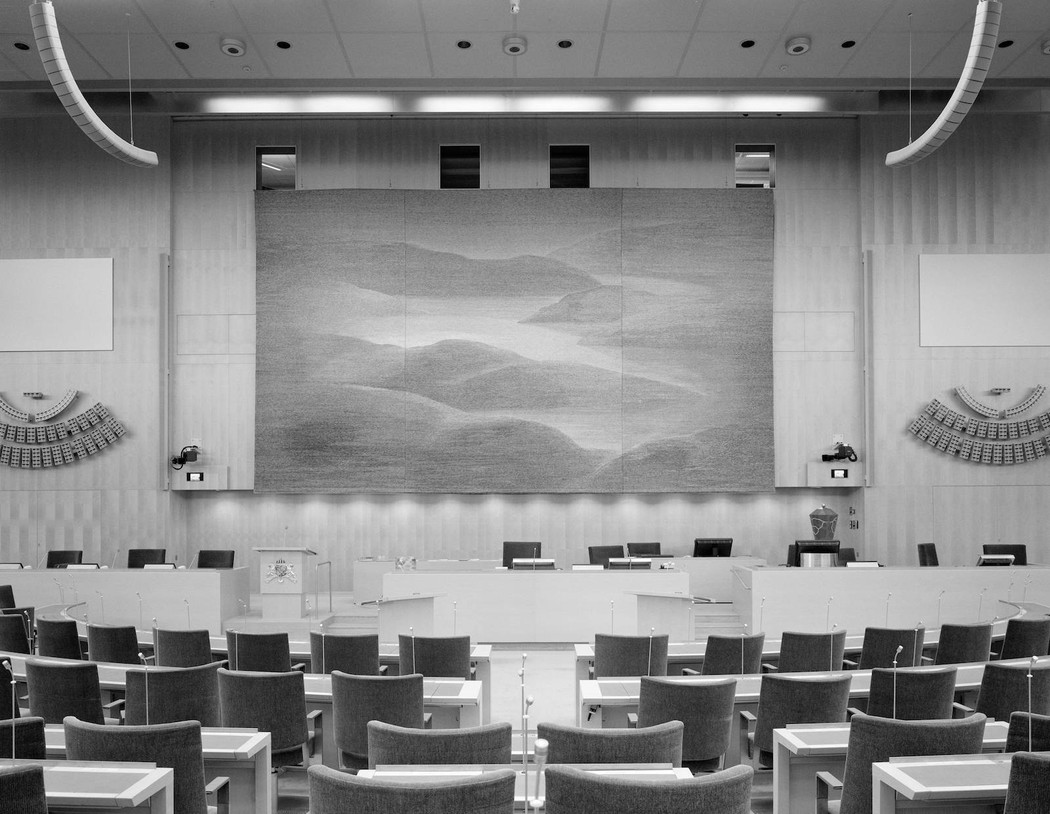 Minnet av ett Landskap
En grupputställning curaterad av Henrik Andersson
Vernissage lördagen 21 maj kl 12-16
Deltagande konstnärer:
Sahar Al-khateeb
Henrik Andersson
Maher Abdul Aziz
Kajsa Dahlberg
Jasmin Daryani
Silje Figenschou Thoresen
Hamish Fulton
Elisabet Hasselberg Olsson
Saskia Holmkvist
Matts Leiderstam
Carl Erik Ström
När riksdagsmännen vid något tillfälle skulle behöva vila ögonen under sitt arbete i Sveriges Riksdags plenisal kan de göra det genom att betrakta Elisabet Hasselberg Olssons (1932-2012) 46 kvadratmeter stora väv Minnet av ett Landskap från 1983. Verket är uppbyggt av 200 nyanser av grått och linet den består av är hämtat från alla landsändar i Sverige. Själva motivet är ett landskap som tycks avtecknat från en höjd och följer vi den tänkta blicken i motivets förlängning i öster korresponderar med den faktiska arkipelag som breder ut sig i Stockholmsskärgård. Med diset som oskärpa reduceras geografin och abstraktionen bidrar till att stärka landskapets avsaknad av mänsklig aktivitet. Att det är ett landskap som är avbildat är inte så konstigt. Landskapsbilder kan sägas ha agerat spegel åt den industriella utvecklingen där skillnad på stad och land, mitt och ditt och land och land varit avgörande. Optiken med vilken vi betraktar landskap är präglad av gränsdragningar. Det kanske inte syns i Riksdagens plenisal men väl strax utanför.
Utställningen tar sin utgångspunkt i Galleri Riis Stockholms lokalitet. I Konstakademins byggnad är verksamheten helt inringad av statliga departement, regeringshögkvarteret och befinner sig mitt emot Sveriges Riksdag. Konstens plats i en geografi som består av Sveriges administrativa centrum är föremålet för utställningen och verken kan med den här blicken ses som en efterskrift till Minnet av ett landskap. Verken berör på olika sätt erfarenheter av hur landskap och geografier skapas. Det kan handla om sättet vi vill och får röra oss i ett landskap, hur ägandet konstitueras genom bild, strategier för att skapa nya rum, föreställningar om oss själva i ett historiskt landskap och språkliga gränsdragningar.
Memory of a Landscape
Group show curated by Henrik Andersson
Opening reception Saturday May 21 from 12 – 4pm
When members of the Swedish Parliament want to rest their eyes on something whilst working in the assembly hall, they can do so by admiring Elisabet Hasselberg Olsson's (1932-2012) large tapestry Memory of a Landscape from 1983. The work consists of 200 shades of dyed grey flax, collected from all parts of Sweden. It depicts a landscape observed from a height, and if we follow the imagined gaze of the viewer to the east, it corresponds with the actual Stockholm archipelago. A haze blurring the geography strengthens the landscape´s lack of human presence. That a landscape is depicted makes sense. Landscapes reflect the industrial development where the difference between city and country, and my country and your country have been decisive. The optics with which we regard a landscape is marked by boundaries. It may not be visible inside the Parliament, but well outside.
The exhibition takes the locality of Galleri Riis Stockholm as its starting point. The activities in the Art Academy building is completely encircled by government departments and offices, and it lies opposite the Swedish Parliament. Arts possible function in a geography consisting of Sweden's administrative centre is the subject for the exhibition, and with this gaze the works can be seen as a postscript to Memory of a Landscape. The artworks in the exhibition deal in different ways with how experiences of landscapes and geographies are created. It can be about the way we want to and are allowed to move in a landscape, how ownership is constituted by image, strategies to create new rooms, ideas about ourselves in a historical landscape as well as linguistic boundaries.