Dan Wolgers
Cire perdue
January 26 – February 24, 2008, Oslo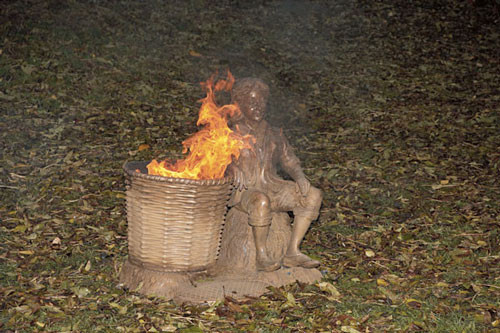 Galleri Riis has the pleasure of presenting our fifth exhibition with the Swedish artist Dan Wolgers.
Dan Wolgers (b. 1955) is one of Scandinavia's most talked about and influential artists. In 2002 he was awarded the prestigious annual Major Grant Award from the Swedish Arts Grants Committee, with the following motivation:
Dan Wolgers's art is characterised by great integrity and intelligence while at the same time it is filled with playfulness, humour and absurd ideas. He questions and analyses, and his art becomes a distorting mirror of our human weaknesses, of the unreasonable and unexpected in the everyday. At the same time there is much seriousness in his art. He is not afraid to challenge and find artistic expressions that can provoke intellectually and emotionally. Dan Wolgers has influenced and continues to be a major influence for a younger generation of artists.
In this exhibition, Wolgers will show a new series of large and smaller sculptures in cast bronze. The models for the works are small figurines and objects the artist has found over the years and kept as inspiration. In the foundary he reworked the models – enlarged, minimized, and distorted them– until they found their final form and size. The sculptures touch aspects of and approach several central themes such as birth and life, existence and death, yearning and dream, relation and perishableness, consciousness and remembrance.
Dan Wolgers lives and works in Stockholm.