Hamish Fulton
Wells of Dee
October 31 – December 05, 2015, Stockholm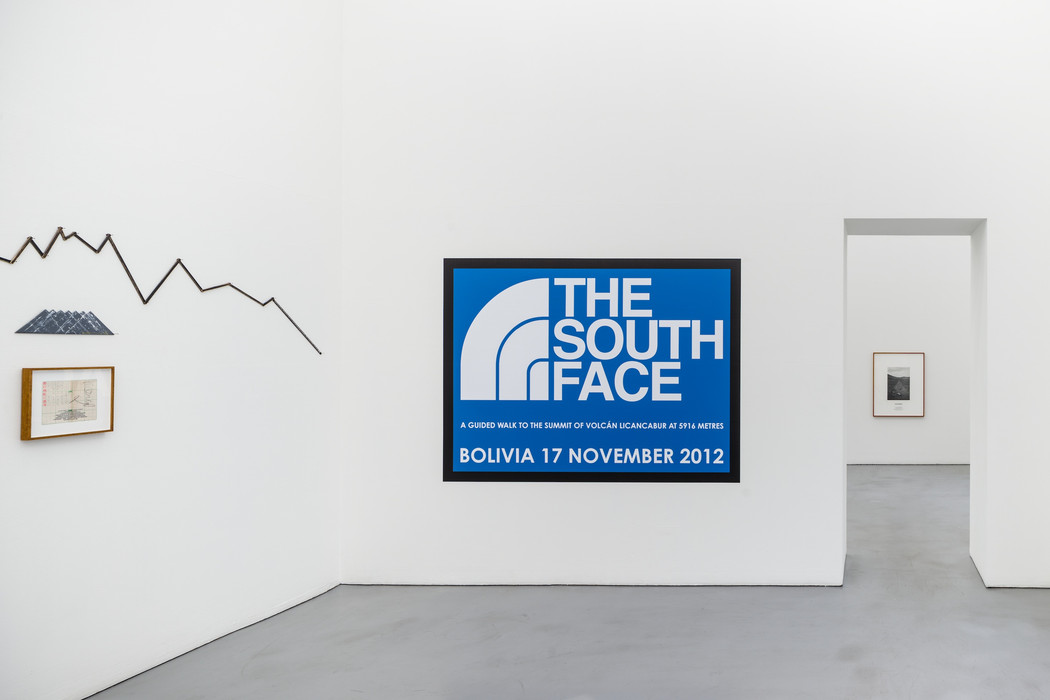 Opening reception Saturday October 31, 12 – 4 pm
Hamish Fulton defines himself as a "walking artist" and after a 47 day walk from Duncansby Head to Land´s End in 1973 he decided to only make art resulting from the experience of individual walks.
In his exhibitions these experiences materialize as artworks with a walk-text – the basic facts about the walks. These texts are mounted on photography, drawings, wall paintings and wooden objects, as well as on other forms and materials.
In her essay "The Value of Experience" Muriel Enjalran writes:
In the composition and spatial arrangement of his works, Hamish Fulton creates conditions that enable viewers to have an inner experience, and he includes several empty spaces so that their minds can be free and mobile. There is a meditative dimension to the artist's work. He has often followed sacred routes laid down by monks, such as the familiar routes of Kent, where he lives near Canterbury, or those of the Tibetan Kora, including Barkhor in Lhasa, leading to the Jokhang Temple and the high summits. In some of these texts he describes the lines formed by the processions of Tibetan monks winding along these routes, visible from certain mountain sites. And in the artist's work, the line is a central element that structures his images. It also figures in other sculptures and drawings; the line is that of the horizon, both fluid and unchanging, the one followed throughout the walk. The line of the horizon becomes a continuous line that splits the landscapes of his text-photos, drawn schematically or built with pieces of wood. It has something of the nature of meditative expression: the line that you follow but never reach.
My art form is the short journey – made by walking in the landscape, suggest that the artwork has already been manifested, that what is exhibited in the gallery is a different movement. Time and space. Time and place. Fulton alternates between recounting and describing. Giving a minimal report from the event he lets us interpret the words, images and objects as we understand them based on our own experiences.
A diversity of art walks can interconnect with a wide range of actions, disciplines, philosophies, environmental issues, the meditative and politics.
The action of walking together creates inspired emotions and over the past years Fulton has conducted several group walks, both outdoors and indoors, involving a variable amount of participants. On the occasion of this exhibition Hamish Fulton will conduct a group-walk in the gallery. (See exhibition announcement for details)
This is Galleri Riis Stockholm's second exhibition with Hamish Fulton and contains selected works spanning over more than 40 years. Fulton (b.1946 in London) lives and works in Canterbury, England and belongs to a significant group of British artists educated at St Martins School in London in the late 1960´s, who challenged conventional ideas about artistic practice. He is represented in most major museums in Western Europe and the US, and has since 1971 exhibited extensively throughout the world. Since 1969 he has walked in England, Scotland, Wales, Ireland, France, Italy, Switzerland, Austria, Norway, Lapland, Iceland, Germany, The Netherlands, Spain, Portugal, The United States, Canada, Mexico, Peru, Nepal, Bolivia, Australia, Japan, Argentina and Tibet.