Stein Rønning
Esplaceant (unfinished business)
March 15 – May 03, 2014, Oslo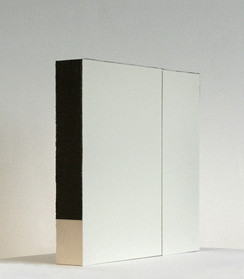 Galleri Riis is proud to present Esplaceant (unfinished business) our fifth exhibition with the Norwegian artist Stein Rønning. In his previous show at Galleri Riis in 2012 he exhibited photographs based on the interplay and careful arrangements of plain, yet precise, boxes built from various woods. In the exhibition Esplaceant (unfinished business) he develops this theme in the objects themselves. The show encompass two groups of work produced in an architectural model makers workshop in London, and marks a return to to the shelf sculptures and the minimal objects Rønning developed and exhibited in the 1980s.
The first group consist of four painted wooden boxes mounted on the walls in the gallery's hallway. The hollow objects only function seems to be containers for the boundary between outer surface and interior space. In the gallery's project space six painted wooden constructions are placed on custom built tables.The model-like scale seem just too small to be something in itself and the objects are reduced to 'things', without a referent. Rønning navigates with small movements in a systematic manner according to what he finds to be a rhythmical order in the room, but the works themselves points toward something else, something imagined.
The title Esplaceant is a play with words, a splicing or coupling of the adverse concepts of espace and place, in the form of a present participle. "The inclusion of things by their naming in a language effectuates signification. This opens the thing to a presence of its other, which resides somewhere in the field of that language."
Stein Rønning (b. Askim 1953) lives and works in Oslo. After nearly 3 decades of teaching and several professorships, most recent at Bergen National Academy of the Arts, 2008-11, he has in recent years exhibited frequently, with one person exhibitions in Trondhjems Kunstforening, Bomuldsfabriken Kunsthall in Arendal, and Kristiansand Kunsthall. Groupshows include Nordnorsk Kunstmuseum in Tromsø, F.O.D.O, Waterloo Action Centre, London, Gallery D.O.R., Brüssel and Armory Show, New York and Carnegie Art Award. Parallel with Esplaceant (unfinished business) in Galleri Riis, Kunstnernes Hus in Oslo will host Rønnings solo exhibition Hierlieu consiting of new photographic works, March 14 – April 27.
Opening reception Saturday March 15 from 12 to 4 pm.