Terje Nicolaisen
Books, text and drawing
May 15 – June 22, 2008, Oslo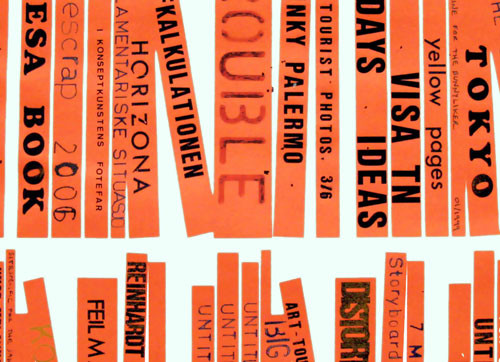 Galleri Riis will on May 15th open an exhibition with selected works by the artist Terje Nicolaisen.
Nicolaisen (b. 1964), educated at the art colleges of Trondheim 1993-96 and Bergen 1996-97, lives and works in Oslo. His artistic endeavor springs out of the medium of drawing, which he redefines and relates to in a wide extent. They span from small unpretentious ink drawings to large, complex paintings on paper with elements of collage, as well as thematically organized unique artist's books. In this exhibition, in the gallery's project space/show room, works from the entire register will come together.
Terje Nicolaisen's works span in both expression and motifs from immediate "one-liners" to open and sensitive poetic communications, quotes from – and references – to art and other artists, portraits of famous cultural personalities, and quotations from mass media. Elements of the burlesque and tragicomic, tinged with utopian, anarchistic and surreal elements, are characteristic of the works, which are simple in means but virtuosely executed in mixed media on paper.
In this exhibition Nicolaisen will, for the first time, present his library of unique artist's books of approximately 250 volumes. On the occasion of this exhibition, Nicolaisen has also produced a limited-edition CD with music that is both composed and performed by the artist, with unique cover illustrations.