Martin Erik Andersen
Endless promises
January 16 – February 23, 2014, Stockholm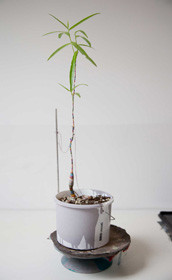 Opening reception Thursday January 16 from 5 to 8 pm
Galleri Riis has the pleasure of presenting our second exhibition in Stockholm with the Danish artist Martin Erik Andersen (b. 1964, Copenhagen).
A mosaic floor made of concrete dominates the exhibition. It also features a number of sculptural objects that can best be described as aesthetic situations made up of eclectic materials such as steel, laser, textile, sound, parts of a disco ball, incense and shell.
The floor is laid in the gallery space with the intention of it being used: to be walked upon, making the visitors weight and steps on the concrete part of the object. Under the concrete elements lies felt fabric, a material commonly used by art handlers and movers – here referring to migration and the possibility of moving and extending the floor elements anywhere – the regular practice within architecture and art history to reuse and appropriate expressions from other places and contexts. The mosaic floor consists of eight complex twelve-sided ornaments with an underlying circular geometric structure, the floor pattern can unfold indefinitely, like the endless promises implied in the exhibition's title. Iconographically the floor is based on classical Islamic ornaments from older architecture and textiles. In Martin Erik Andersen's case a contemporary European context is also inevitably included, which in turn relates to formal aspects within American minimalism and brutalism, all layers of cultural history visible in the works themselves.
To position oneself in Andersen's spaces requires a capitulation in front of the material's enigma and odd narrative. They exude both difficulty and opportunity and Andersen speaks about his artistic practice as a grid of thematic elements deployed as on a map. He places the viewer in limbo between a bodily and architectural experience and the installations offer different parallel studies of the issues present.
Andersen's aesthetics is a mix between high and low, between modern technology and the ancient, patterns as language in which the order of the room combined with the reading of the situation allows for the forming of additional materials, paradoxically with the help of non-material phenomena such as the smell of incense, music and light. All of this presents a liberating nonlinear irresponsibility. Andersen has no denominational nor anthropological scruples when using different signs as he works non-hierarchically – all elements in the grid support each other and show that no cultural expression is an island.
Martin Erik Andersen lives and works in Copenhagen. He trained at the Royal Danish Academy of Fine Arts where he currently acts as professor of sculpture. On January 31, the exhibition DET ARABISKE NU opens at Louisiana Museum of Modern Art in Denmark in which Andersen participates with a different section from the mosaic floor shown at Galleri Riis.