Signe Marie Andersen
Splendid Hotel
August 28 – September 28, 2008, Oslo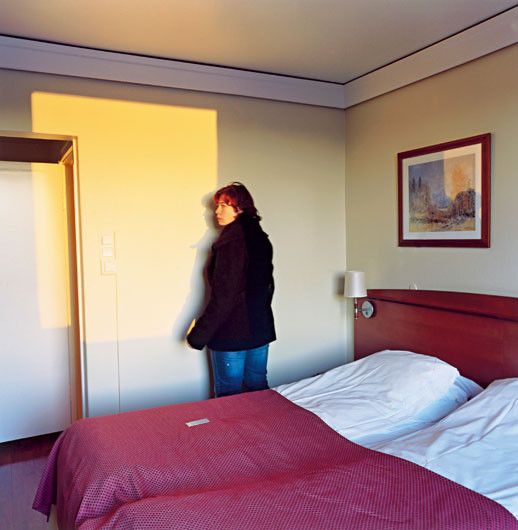 On August 28th, Galleri Riis opens its fourth exhibition of new works by the artist Signe Marie Andersen (b. 1968). Andersen, a graduate of the Art College in Bergen, lives and works and Oslo.
Since her debut in the gallery project space in 1997, Andersen has continued to develop her analog color photography. From obviously staged motifs in the exhibition "Fire My Flan" in Galleri Riis (2002) – to motifs with less of a narrative take, such as facades and exteriors, in the exhibition "Before and after the big party" in Galleri Riis (2005).
The exhibition title refers to Anderson's many photographs taken during her travels the past year, of interiors and exteriors where people are in transit – such as hotels and airports. Some of the motifs feature persons, often with their faces obscured, other images are views out of windows, suggestions of the world outside or beyond. Andersen seeks recognizable moods, situations and states, and the act of staging is still to a varying degree present.
In addition to the color photographs from the past three years, in format 65 × 65 cm to 120 × 120 cm, Andersen has produced 6 video-works. The videos are filmed without camera movement and as such function as an extension of the still photographs. The sequences are 1-4 minutes, and in loop.
On the occasion of the exhibition, Galleri Riis will publish the book "Splendid Isolation", an 80-page survey with a commissioned essay by Jon Fosse and selected works by Signe Marie Andersen from the last 6 years.