Andreas Eriksson
Recur
May 03 – June 21, 2013, Oslo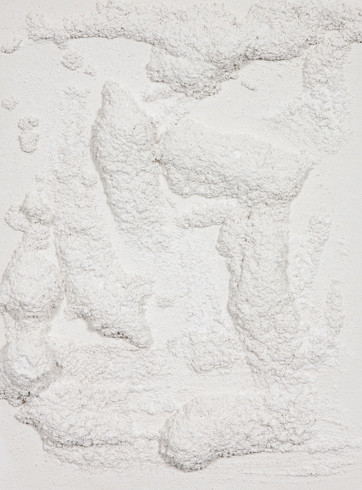 Opening reception Thursday May 2nd, 7-9 pm
We have the pleasure of presenting our seventh exhibition with the Swedish artist Andreas Eriksson (b. 1975). The exhibition entitled Recur consists entirely of plaster reliefs, a relatively new addition to his already extensive artistic repertoire encompassing painting, photography, sculpture and tapestries, often exhibited intermixed and with the various media assembled in friezes. The ten smaller and medium sized reliefs – all recently produced – are the result of a process in which Eriksson "paints" with acetone on slabs of styrofoam. The corrosive fluid eats away the plastic material, creating a negative relief of brush strokes. The process being only partially controlled by the artist, thus creating a wide scope for chance in the reaction of the materials; the ensuing liberating force is welcomed and cultivated in his work. When the styrofoam is cast, the white plaster relief reveal the delineations of the brush strokes appearing as undulating landscapes covered in snow, rugged and mysterious.
The creation of these works relates to other parts of his artistic output; paintings of shadows projected from the outside world on the studio wall emerge from deep inside monochrome paintings, tapestries executed by weavers using details of his paintings as the point of departure, bronze cast of molehills in the fields and of birds forfeiting their lives colliding with the mirror illusion of the large studio windows. Eriksson consistently pursues new paths in his artistic practice, invariably conceptually cogent, yet with a keen visual sensitivity.
Andreas Eriksson received a MFA from the Academy of Arts in Stockholm (1993-1998). In 2012 he participated in the exhibitions "The Imminence of Poetics", Sao Paulo biennale and "Pink Caviar", Louisiana Museum of Modern Art, Humlebæk and in 2011 he represented Sweden in the Venice Biennale with a solo exhibition in the Nordic Pavilion. One man shows this year have included Recur in Bror Hjorths Hus, Uppsala, Krux in Lidköping Konsthall and Landskap (till Kjarval) at Galleri Riis Stockholm, and currently the solo exhibition Coincidental Mapping at Stephen Friedman Gallery in London. Andreas Eriksson lives and works at Kinnekulle in Västergötland, Sweden.