Virlani Hallberg
May 17 – June 20, 2013, Stockholm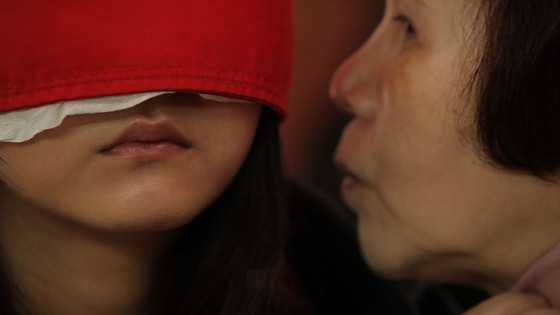 Opening reception Thursday May 16, 5-8 pm
Galleri Riis is pleased to present an exhibition with Virlani Hallberg (b. 1981, Jakarta). In the gallery, two narratives will take place. One told through stills and one through film.
An overarching theme in both rooms is: whose account is most valuable?
"Individual and collective trauma – the effects of violence – whether conscious or not, keep us bound to repetition. Ultimately, my work raises the question of whether it is possible to break away from this often self-fulfilling prophecy of individual suffering in order to create awareness of the psychological mechanism of the "double bind"? For in repetition, there is always transformation, too. In order to make this transformative power available, the appearance of "reality" as "real" and "given" has to be challenged. This can be achieved through fiction." Virlani Hallberg
The inner room is dedicated to the video installation Receding Triangular Square from 2012, an interdisciplinary collaboration between Hallberg and the art historian and psychoanalyst Leon Tan. The people in the film attempt in various ways to cross the boundaries between consciousness and the unconscious. Dealing with rituals for access to the indescribable, immeasurable experiences and traditions that sometimes must be conducted in secrecy. Hallberg and Tan utilize the film medium to address issues of colonization, psychosocial trauma and repression. Western psychology encounters rituals of different origins. As science is not neutral, there is every reason to observe the painful consequences of a dominant system: the western psychological model has historically been employed to rationalize violence and oppression of The Others.
In the first room a story has been rearranged. Originated from Hallberg's film O from 2012, these images make for an alternate story in which the artist has reduced the number of visible characters from the film's three characters to the still series' two. The arranged scenes exhibited are not merely images from a film, they are archetypes extracted from a larger human context. Films and photographs are inevitably simplifications of complex psychological operations, and the images flux between an individual level and collective structures. Whose gaze allows what? The roles are not fixed; it rather appears to be the opposite as the characters seem able to merge.
Hallberg received her MFA in 2012 from the Royal Academy of Arts in Stockholm. In 2012 she participated in the Taipei Biennial, Cinelux in Genève, The 58th International Kurtzfilmtage in Oberhausen, Germany and Berlinale Film Festival. Upcoming activities include a solo show and workshop at 1335MABINI, Manila, the Philippines and a performance and workshop at the The Six Senses of Making Sense at The Metropolitan Museum of Art in New York, July 2013. Virlani Hallberg lives and works in Berlin and Stockholm.