Andreas Eriksson
Landskap (till Kjarval)
February 14 – March 27, 2013, Stockholm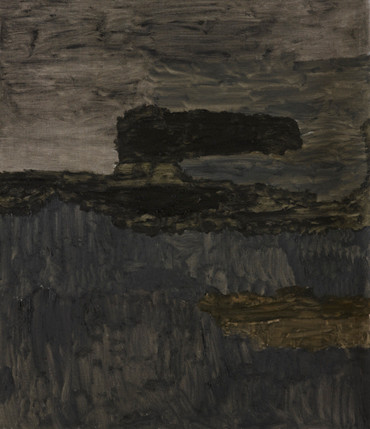 Opening reception Thursday February 14, 5-8 pm
Galleri Riis Stockholm has the pleasure of presenting our second exhibition with Andreas Eriksson. Lately Andreas Eriksson has spent time in the pictoral world of Icelandic painter Kjarval (1885-1973) and he has brought a part of it with him to his own. In contrast to Kjarval, Eriksson's world consists of surroundings not in need of legends. It is populated with tangible characters, such as trees, dark fields and forms.
The exhibition can really be seen as two separate exhibitions where the gallery rooms display different artistic positions. The first room consists of images belonging to a classic painterly tradition wherein Eriksson have been in control of his material. The largest painting seems to depict the inside of a dark place and imbues the feeling of being inside a cave. The smaller paintings contain grand scenes, despite their sparse formats, where nothing have been left out and everything comes together. In the second room one is surrounded by images, most of which are photographs. The frieze running high on the walls consists of images and objects not necessarily harmonizing. Just like the groves and glades that are portrayed in Andreas Eriksson's photographs. They are reconnaissance photos making the nature scenes exist like observations or mappings of reality. The plaster reliefs display something painterly as they contain brush strokes, but reversed, outward movements as they are made with corrosive acetone on styrofoam. These works are about having the courage to include the disturbing and to recognize the self-assertion in not knowing how it will end up but still trust the result. The photographs also hold a conviction, here having to do with something raw and haphazard. The frieze also contains tapestries, tapestries that are paraphrases on details of earlier paintings by Eriksson, and also a number of carved and painted panels that can be seen as stylized windows. Andreas Eriksson's work has always simultaneously contained both the sensuous and the conceptual. It is about different kinds of observations. Andreas Eriksson paints, photographs, weaves and sculpts excerpts of his surroundings and he produces a limited narrative that has to be just that, limited. It is the space in between and the nearly invisible that create a story.
Andreas Eriksson was born in 1975 and received a MFA from the Academy of Arts in Stockholm (1993-1998). In 2012 he participated in the exhibitions "The Imminence of Poetics", Sao Paulo biennale, Brazil and "Pink Caviar", Louisiana, Humlebæk, Denmark and in 2011 he represented Sweden in the Venice Biennale with a solo exhibition in the Nordic Pavilion. Andreas Eriksson lives and works at Kinnekulle in Sweden. On the occasion of the exhibition, Galleri Riis will publish a catalogue.
For further information and images, please contact the gallery.