Olav Christopher Jenssen
Panorama Second Generation / The Letharia Paintings
February 02 – March 10, 2013, Oslo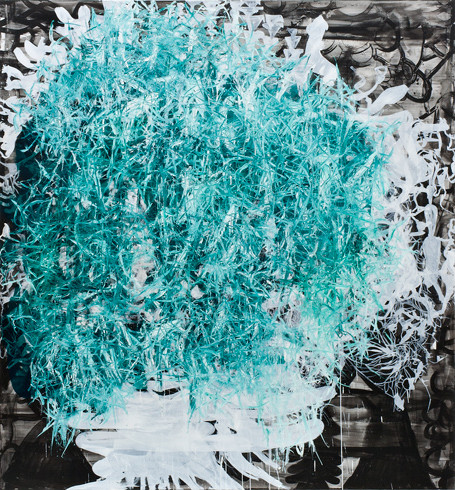 Opening reception Friday February 1, 5-8 pm
Galleri Riis has the pleasure of presenting our 12th exhibition with Olav Christopher Jenssen (born 1954) in the gallery´s more than 40-year history.
Olav Christopher Jenssen is one of the foremost artists of his generation from the Nordic region and has gained international recognition for his distinctive and multi-facetted paintings, as well as for his idiosyncratic sculptures. In addition, his vast production encompass drawing, watercolour painting, graphic works, book illustration and books. Simultaneously working with multiple series and mediums, Jenssen alternates between the different works mentally and physically; from informal and rapidly painted pictures to more strict and formal paintings, in monumental as well as small formats. Always exploring and adopting new methods and techniques, his works contain both continuity and diversity. In the span of the fragile, impulsive and immediate opposed to the more restrained and controlled paintings, a rich visual vocabulary has emerged. The paintings open up a philosophical space for dialogue and reflection, encouraging the viewer to unveil strata of paint and decipher cryptic symbols, as on an archaeological journey through the hundred year history of abstract painting.
"Panorama Second Generation / The Letharia Paintings" consists of selected works from two new series of large scale paintings from 2012, along with two new paintings completed in 2013. Some of the paintings were exhibited in Galleri Riis and Galleri Charlotte Lund in Stockholm 2012, and in Jenssen´s recently closed retrospective exhibition "Enigma" in Marta Herford Museum in Germany. The works in "Panorama Second Generation" refer back to a previous generation of paintings with the same title (from 2008-09), thus being an example of Jenssen's returning to, and continuing of earlier series. The Panorama series is characterized by its striking compositions and constellations, ranging between static contemplative calm and thrilling journeys in a warped world where unexpected spaces and horizons appear. The fields in the Panorama paintings, with their own inner logic, mirror both an abstract world and an ability to see beyond the canvas. "The Letharia Paintings" have emerged over the last years, with recognizable layers of Jenssen´s organic artistic idioms. Through a final treatment with a palette knife and generous application of oil paint in Prussian Green and white, the paintings hold a hypnotic intensity conveying continuous growth and extensiveness.
Olav Christopher Jenssen lives and works in Berlin and in Lya, Sweden, and has since 2007 held a professorship in Hochschule für Bildende Künste Braunschweig in Germany. He is represented in several important collections, including Museum of Modern Art, New York, Moderna Museet, Stockholm, Centre Pompidou, Paris and The National Museum of Art, Architchture and Design in Oslo. He has had major exhibitions at Astrup Fearnley Museum of Modern Art, Oslo, Kiasma Museum of Contemprary Art, Helsinki and Kunstmuseum Bonn, Germany, where his works occupies a room in the museum`s permanent collection. Jenssen will this winter also be showing at Henie Onstad Art Center, Høvikodden, with the expansive exhibition "JOURNAL- works on paper 1979-2012", as well as "Det lille huset – tegninger av Olav Christopher Jenssen" in Nordnorsk Kunstmuseum in Tromsø – an exhibition of 50 drawings from the house of Edvard Munch in Åsgårdstrand, Norway.