Katrine Giæver
Handmade
April 26 – June 22, 2012, Oslo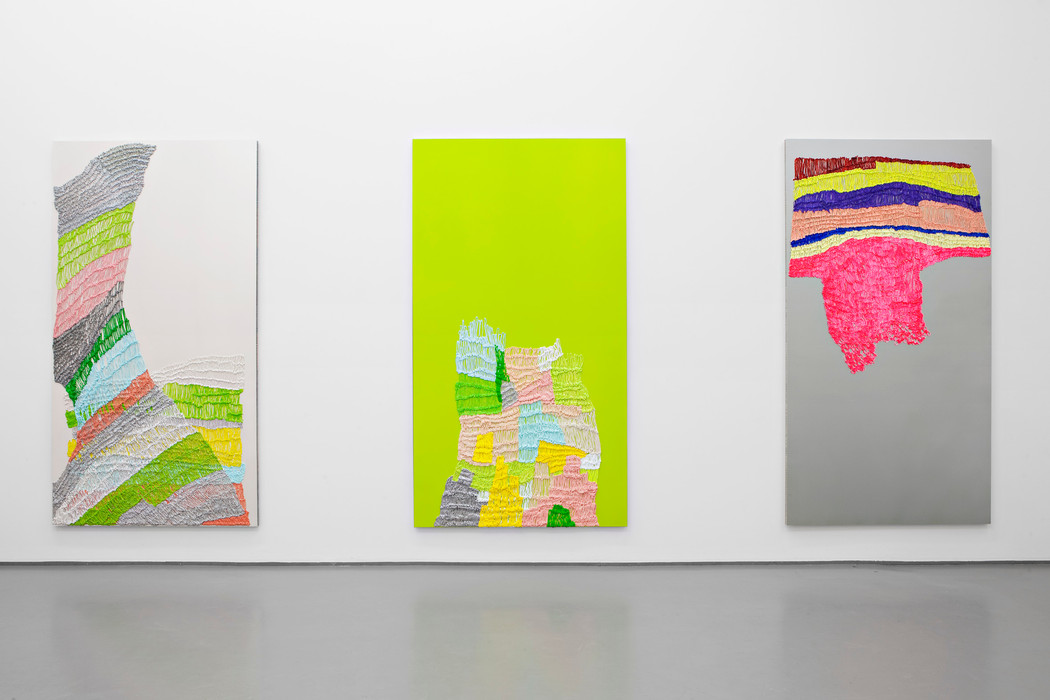 Opening reception Thursday April 26 7-9 PM
The exhibition Handmade consists of a series of new large paintings by Katrine Giæver (born 1960). Giæver's work have in recent years encircled the making of pictures without a trace of the hand`s presence; in paintings with partly uncontrollable crackling and more recently in her extensive series of paintings made with enamel lacquer poured on spray painted aluminium plates, composed with the help of gravity and the principle of chance.
In the series Handmade she has woven a structure of acrylic paste on varnished alucore panels, thereby creating an irreversible three-dimensional drawing in a shallow relief. In some, the relief is delicately coloured with a fine paintbrush – in others the structure is covered under new layers of spray paint. The colour scheme spans soft pink to decadent neon nuances. The result is a series of paintings with a strong sculptural feel and materiality as well as painterly qualities – some more timid and some more forceful in their own weight – where Giæver's background and interest in textiles and fascination over natural micro/macro patterns is clearly visible. As in earlier series, the common feature in these works is the energy and distinctive properties of colour itself, which is always treated in regard to the material and work methods.
Katrine Giæver lives and works in Oslo and was educated at the Academy of Arts and Craft in Oslo 1983-87 and Visva Bharathi University i Vest-Bengal in India. She is represented in National Museum for Art, Architecture and Design in Oslo as well as numerous corporate and private collections. Over the last years she has completed several large public commissions.