Nobuyoshi Araki
Kinbaku
October 02 – October 26, 2008, Oslo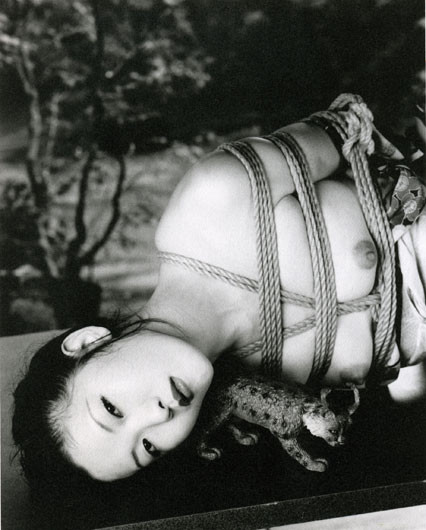 On Thursday October 2nd, Galleri Riis opens its first exhibition with works by the Japanese photographer Nobuyoshi Araki (b. 1940). Educated within photography and film, Araki is one of his generation's most productive and influential artists, with a large production of books, exhibitions and films. Araki lives and works in Tokyo.
The most central and well known motifs in Araki's production reflect his obsession with women and flowers, and the formal relations between these motifs. The exhibition title "Kinbaku" refers to a traditional technique of Japanese sexual bondage, with focus on asymmetrical knots tied in strategic places of the lower body. The women depicted demonstrate differerent techniques and positions in Kinbaku. The series is one of the many attempts of the artist to approach woman, the rope being a metaphor for the arms of an embrace.
The exhibition at Galleri Riis is comprised of approximately thirty black and white photographs in large format, and is organized in collaboration with Peder Lund.