Signe Marie Andersen
Impossible presence
April 12 – May 06, 2012, Stockholm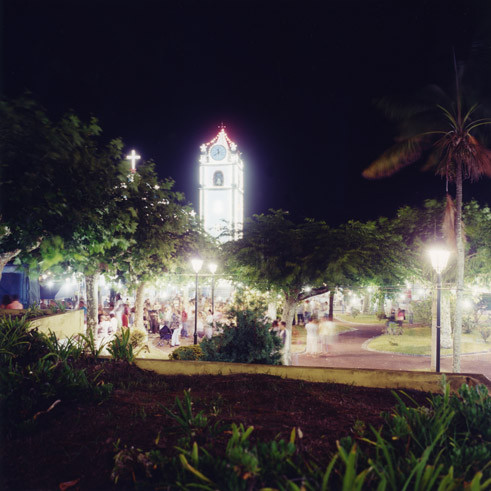 Galleri Riis Stockholm has the pleasure of presenting our first exhibition in Stockholm with the Norwegian artist Signe Marie Andersen (b. 1968, Oslo). Since her debut at Galleri Riis Oslo in 1997, Signe Marie Andersen has expanded her photographic practice with a distinct approach. From working with more or less clearly staged motifs, the narrative streak is now entwined with a play between different moods, often expressed in architectural spatiality, as seen in facades and exteriors. Many pictures have been taken on Andersen's travels and take place in transit areas such as airports and hotels. Places characterized by being crowded but which almost seem empty and abandoned in Andersen's pictures. Some images depict hotel rooms with unmade beds bearing witness to a human presence, others are pictures of people but with their faces partly or completely hidden, as they turn away from the viewer, sit in darkness, or hold an object in front of themselves. A recurring feature in many of Andersen's works is a melancholic tone and a bright light that reminds the viewer of an existential loneliness and a feeling of life´s unstoppable speed. At the same time the pictures are never completely discouragingly dark, but are filled with subtle, low key humour – emphasized by her poetic and often absurd titles – and thus act more as an enhanced concentration of recognizing life, with its pauses, lost time, longing for meaning and interpersonal meetings. Her lifelong and strong relationship with the theatre influence her artistry, and in 2008 Andersen published the 80-page photo book "Splendid Isolation" with a specially commissioned text by the Norwegian playwright Jon Fosse.
The exhibition consists of some 15 pictures ranging from 60 × 60 cm to 100 × 300 cm, and are all analogue C-prints. The works are from the last 10 years, many from earlier Riis exhibitions as "Fire my flan", 2002 and "Before and after the big party", 2005, which illustrate how Andersen alternates staged elements such as actors, props and theatrical lighting, and the use of several "found" scenes from the exhibition "Somehow considered in a room", 2011. In the large work "Flying in", 2011, a panoramic cityscape taken by night, she steps into a new territory towards something resembling a still taken from the opening scene of a spectacular movie.
Signe Marie Andersen lives and works in Oslo. She studied at Bergen National Academy of the Arts in Norway between 1993-98, and she is represented in The National Museum of Art, Architecture and Design in Oslo.